The Ultimate All in One Guide to In Store Marketing
In store marketing is a critical aspect of retail success. It involves the use of various strategies and techniques to attract, engage, and convert customers while they are physically present in your brick-and-mortar store. In store marketing is pivotal in the retail industry. It serves as a bridge between the online and offline shopping experiences.
For example, consider a customer who browses products online but prefers to make the final decision in-store. In-store marketing can influence their choices through strategic displays, personalized recommendations, and engaging customer service. Furthermore, in store marketing can foster brand loyalty by creating a memorable and unique shopping atmosphere.
For instance, Apple's retail stores are renowned for their sleek design, expert staff, and interactive product displays, which enhance the overall brand experience and drive customer loyalty. This comprehensive guide will cover everything you need to know about in store marketing, from understanding its importance to implementing effective strategies.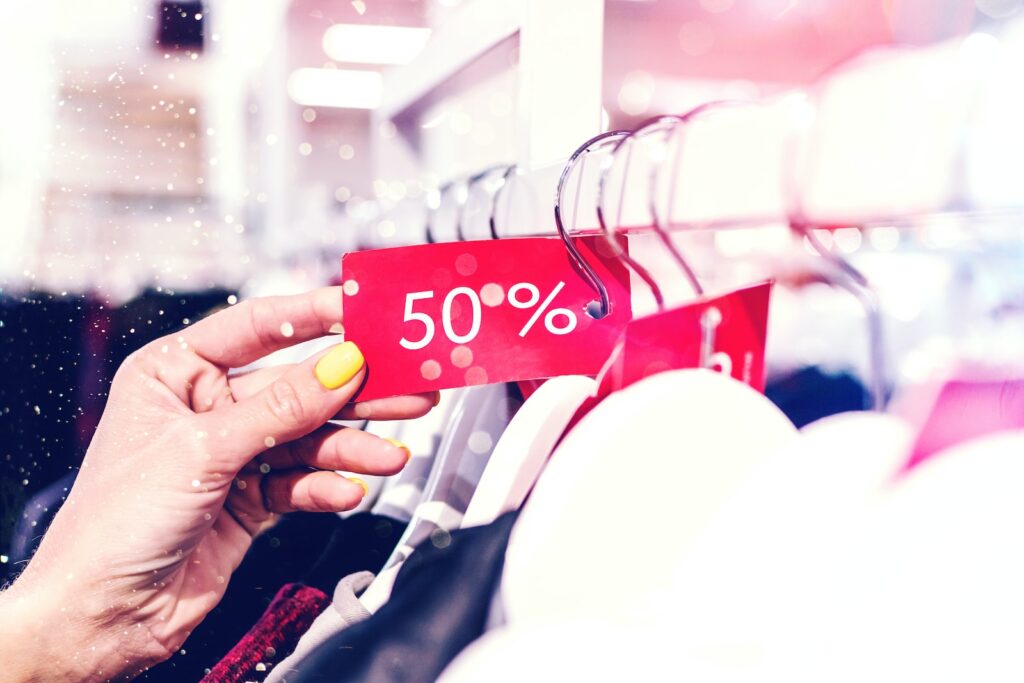 Importance of In Store Marketing
In the ever-evolving landscape of retail, the importance of in store marketing stands out as a cornerstone for brands aiming not only to sell products but to craft enduring customer experiences. Comprehensive In Store Marketing yields the following benefits:
In Store Marketing Offers Tangible Experience
In store shopping provides a tangible and sensory-rich experience that online platforms can't replicate.The tangible experience offered by in store shopping becomes a vital differentiator, providing customers with a sensory-rich encounter that surpasses the limitations of online platforms.
Creates a Brand Identity
Beyond the convenience of digital transactions, the physical store serves as a canvas for expressing brand identity. Through carefully curated aesthetics, thoughtful ambiance, and personalized customer interactions, brands can convey their essence in a way that resonates deeply with consumers. It transforms the act of purchasing into a multisensory adventure, creating a physical space where a brand's identity comes to life, immediate gratification is realized, and personalized interactions foster lasting connections.
Offers Immediate Gratification
The allure of immediate gratification is a powerful element embedded in the in store shopping experience. Shoppers enjoy the immediate gratification of taking products home on the spot. Unlike online purchases that require anticipation and shipping time, in store shoppers relish the satisfaction of taking their chosen products home on the spot. This immediate exchange contributes to a heightened sense of fulfillment, adding a layer of value to the overall shopping journey.
In Store Marketing Enables Personalized Interaction
Crucially, in store marketing facilitates personalized interaction between customers and the brand. The presence of knowledgeable and approachable staff empowers a level of customer service that extends beyond the capabilities of online chat support. In store personnel can offer tailored recommendations, address specific queries, and provide assistance based on individual preferences. This personalized touch not only enhances the customer's shopping experience but also forges a genuine connection between the brand and the consumer.
In essence, the importance of in store marketing lies in its ability to transcend transactional exchanges, offering customers a holistic and personalized journey. In a retail landscape marked by digital advancements, in-store marketing emerges as a powerful catalyst for building brand loyalty and ensuring that each visit to the store is not just a transaction but a memorable experience.
In Store Marketing Strategies and Ideas
In store marketing strategies and ideas form the cornerstone of a brand's ability to captivate and engage consumers within the physical retail space. These encompass a diverse array of tactics aimed at creating immersive and memorable experiences for shoppers. From strategically designed store layouts and eye-catching displays to interactive technologies that bridge the digital-physical divide, the goal is to elevate the in store journey. Brands often leverage storytelling elements, infusing their products with narratives that resonate emotionally.
Community-building initiatives, such as events or workshops, serve to forge a deeper connection between the brand and its clientele. Additionally, personalized interactions facilitated by knowledgeable staff contribute to a tailored shopping experience, fostering customer loyalty. The integration of sensory elements, such as ambient scents or soothing music, further enhances the overall atmosphere. In essence, in-store marketing strategies and ideas are dynamic and multifaceted, designed to create not just transactions but lasting impressions that transcend the traditional retail encounter. Lets Delve into Each of those In Store Marketing Strategies and Ideas:
1. In Store Customer Journey
Entrance and Window Displays
The Customer Journey begins at the entrance. Compelling window displays and entrance setups should showcase products or convey a brand story. For instance, Apple's minimalist displays draw customers in with sleek product presentations.
Path to Purchase
Design the store layout to guide customers through a logical path. High-demand or featured products should be strategically placed along this route. This is where the 'decompression zone' (the first 5-15 feet inside the entrance) is crucial; customers need a moment to adjust and take in the store atmosphere.
Hot Zones and Power Walls
Identify hot zones – areas with high foot traffic – and utilize power walls for impactful displays. These areas are prime real estate for promoting key products, limited editions, or partnerships. IKEA's showroom layouts exemplify the concept of power walls, strategically placing best-selling or new items in prominent positions.
Interactive Displays and Demo Stations
Encourage interaction through displays and demo stations. Technology stores often have interactive screens allowing customers to test products. For example, Microsoft stores have demo stations where customers can try out the latest devices and software.
Checkout Experience
The checkout area is not just for transactions; it's an opportunity to upsell. Place small, enticing products near the checkout for impulse buys. Apple's stores are known for their minimalistic checkout areas with accessories strategically placed for last-minute additions.
2. Store Layout and Design
Store layout and design play a critical role in influencing customer behavior. The layout should guide customers through the store in a logical and visually appealing way. For example, IKEA's store layout takes customers through various room displays, demonstrating how their products can be used in real-life settings. Additionally, a well-designed layout can encourage cross-selling and upselling. Grocery stores often place complementary products like chips and salsa in close proximity, leading to increased sales of both items.
3. Visual Merchandising
Visual merchandising is all about creating a visual story with your products. Retailers often use seasonal displays to evoke emotions and connect with customers. For instance, during the holiday season, department stores create winter wonderland displays with snow and ornaments to attract shoppers. Apple's minimalist product presentations in sleek, white environments emphasize the elegance and simplicity of their brand.
4. Lighting and Color Psychology
Lighting and color psychology can dramatically influence customer mood and behavior. For example, restaurants often use warm, dim lighting to create an intimate dining atmosphere. In contrast, fast-food chains use bright, vibrant colors and lighting to evoke energy and excitement. A successful example is McDonald's use of red and yellow colors to encourage a sense of urgency and speed, which suits its fast-food concept.
5. Store Branding
Store branding is about ensuring that every element of your store design aligns with your brand identity. Starbucks, for example, incorporates its green color scheme, cozy seating, and warm lighting to create a recognizable and welcoming environment that reflects its brand image of a third-place between home and work.
6. Product Displays and Arrangements
Strategic product displays can significantly impact sales. Endcap displays, featuring prominently at the end of aisles, are prime real estate for highlighting promotions and seasonal items. An example is how grocery stores place Halloween candy and decorations on endcaps during the month of October. By doing so, they not only make it convenient for shoppers to find these items but also encourage impulsive purchases.
7. Interactive Displays and Technology
Technology can revolutionize the in-store experience. IKEA, for instance, offers an augmented reality app that allows customers to see how furniture will look in their homes. Interactive displays and touchscreen kiosks can engage customers by providing additional product information, enabling virtual try-ons, or offering customization options. Apparel stores like Uniqlo and Gap have deployed touchscreen kiosks for customers to select sizes and styles without having to enter fitting rooms.
8. In Store Signage and Graphics
Effective signage is crucial for guiding customers and conveying information. For example, supermarket chains use clear signage for product categories, such as 'Fresh Produce' and 'Dairy,' making it easy for customers to navigate the store. Digital signage is also increasingly popular, allowing retailers to update promotions and information in real-time. Fast-food restaurants like McDonald's utilize digital menu boards to display changing daily specials.
9. Customer Experience and Engagement
An essential aspect of in-store marketing is creating an exceptional customer experience. Apple's retail staff, known as 'Geniuses,' are well-trained to provide expert advice and assistance. Their approach empowers customers, making them feel more confident about their purchases and fostering brand loyalty.
10. Customer Feedback and Analytics
Collecting customer feedback is vital to understanding their preferences and needs. This can be done through surveys, comment cards, or online reviews. Retailers like Amazon and Walmart use customer data and analytics to personalize recommendations and promotions, enhancing the shopping experience.
11. In Store Promotions, Limited-Time Offers and Flash Sales
Sales promotions and in store events are excellent ways to attract foot traffic and boost sales. An example is the Black Friday sales event, where retailers across the United States offer steep discounts on a wide range of products, creating a shopping frenzy and increasing sales. Create a sense of urgency with limited-time offers and flash sales. This strategy motivates customers to make immediate purchasing decisions. Zara, H&M and many other Fashion Retailers frequently employs this tactic for their fast-fashion items.
12. Visual and Sensory Merchandising
Sensory elements like music and scent can profoundly impact the shopping experience. Luxury retailers like Abercrombie & Fitch use their signature scent in stores to create a distinctive atmosphere, which reinforces their brand identity. Similarly, the music played in stores can evoke specific emotions, such as calmness or excitement, depending on the retailer's objectives.
13. Environmental Sustainability
Incorporating sustainable practices into your store design and marketing can appeal to a growing environmentally-conscious consumer base. Outdoor gear retailer Patagonia is a prime example, with their commitment to sustainable materials and ethical manufacturing practices reflected in their store design and marketing, creating a strong connection with their target audience.
14. In Store Marketing Metrics
Key performance indicators (KPIs) like foot traffic, conversion rates, and average transaction value provide valuable insights into your in-store marketing success. For instance, a clothing store can track conversion rates by comparing the number of customers entering the store to those making a purchase, revealing the effectiveness of their marketing efforts.
15. Competitive Analysis
Studying competitors is essential to identifying opportunities for differentiation. For example, when you visit a popular coffee shop like Starbucks, observe how they create a unique in-store experience, such as their cozy seating areas and consistent brand messaging.
16. Legal and Ethical Considerations
Compliance with advertising and labeling regulations is critical. Additionally, ethical considerations like transparent pricing, accurate product descriptions, and fair labor practices are essential for building trust with customers. For example, Whole Foods Market emphasizes its commitment to transparency and ethical sourcing, which resonates with their target audience of health-conscious and environmentally-conscious consumers.
17. In Store Marketing Trends and Innovations
Staying current with trends and innovations is essential. For instance, retailers are increasingly implementing beacon technology, which uses Bluetooth to provide location-based marketing. This technology can send customers personalized promotions and information based on their physical location in the store, enhancing the shopping experience.
18. In Store Marketing Case Studies
In-store marketing case studies not only serve as insightful documentation of successful strategies but also embody the very tactics and innovations they aim to illustrate. Each case study is a living testament to the application of diverse in-store marketing tactics that have proven effective in real-world scenarios. These narratives delve into the intricacies of brand challenges and the strategic solutions implemented, offering valuable insights into the dynamic landscape of retail. As a result, in store marketing case studies inherently become a form of tactical guidance, showcasing the power of immersive experiences, personalized interactions, and creative displays. Case studies, such as the success of Zara's fast-fashion model or the experiential marketing of Nike's flagship stores, provide insights into what strategies work and why.
19. Budgeting and Resource Allocation
Retailers should allocate their budget effectively, ensuring they invest in the right areas. For instance, luxury fashion brands invest significantly in visual merchandising and store design, while discount retailers focus more on competitive pricing and cost-effective store layouts.
20. Implementing In Store Marketing Strategies
Implementation should be a step-by-step process that includes store design, signage, staff training, and technology integration. For example, when implementing touchscreen kiosks, retailers should ensure they are user-friendly and that staff are trained to assist customers in using them.
21. Measuring and Optimizing In Store Marketing ROI
Continuously monitoring the impact of strategies through data analysis is crucial. For example, retailers can use customer feedback and sales data to adjust their in store promotions and layouts for better results, increasing ROI. Relentless Application of Construction Customer Feedback goes a long way in Successful Optimization of In Store Marketing Strategies that inspire Customer Trust and Elevate's Brand Power in the eyes of the Customer
22. In-Store Marketing Checklist
Create a comprehensive in-store marketing checklist to ensure every element is considered. The Ritz-Carlton's renowned service is built on meticulous checklists that guide staff in providing exceptional experiences. The in-store marketing checklist stands as a pivotal document, not merely as a set of guidelines but as a dynamic arsenal of key tactics for crafting a compelling retail environment. Serving as a comprehensive roadmap, this checklist encapsulates a range of strategic maneuvres, from optimizing store layouts and creating immersive displays to fostering personalized interactions and implementing interactive technologies.
23. Experiential Pop-Up Shops Pop-up shops create a sense of urgency and exclusivity. Brands like Nike have leveraged this concept by setting up temporary shops that offer unique experiences, limited-edition merchandise, and special events. For example, Nike's "House of Innovation" in New York City blends digital innovation, customization, and interactive experiences, redefining traditional retail and creating buzz around the brand.
24. Multi-Sensory Tasting Stations
For food retailers, particularly grocery stores and gourmet shops, setting up multi-sensory tasting stations can be a powerful way to engage customers. By offering samples of food or beverages, stores can stimulate taste, smell, and touch senses, allowing customers to experience products firsthand. For instance, a cheese shop might offer cheese tasting stations with paired wines and fresh-baked bread, creating a delightful sensory experience that drives sales.
25. Smart Mirrors for Fitting Rooms
Smart mirrors equipped with technology like augmented reality (AR) can transform the fitting room experience. Fashion brands like Rebecca Minkoff have integrated smart mirrors into their fitting rooms. Customers can virtually try on different sizes, colors, and styles without physically changing clothes. This not only enhances the convenience but also adds an element of entertainment and personalization to the shopping journey.
26. Store-Within-a-Store Concept
Retailers can create a store-within-a-store concept by partnering with complementary brands or businesses. For example, department stores often host mini boutiques of high-end cosmetics brands. This co-branded approach increases foot traffic, cross-promotion, and the overall shopping experience. Customers can explore a variety of brands and products in one location.
27. Art Installations and Galleries
Infusing art into the shopping experience can elevate it to a new level. Retailers like Louis Vuitton have partnered with contemporary artists to transform their stores into art galleries. These art installations not only draw art enthusiasts but also create an atmosphere of exclusivity, enhancing the brand's image and customer engagement.
28. In-Store Workshops and Classes
Hosting in store workshops or classes can be an effective way to foster a sense of community and provide value beyond just shopping. For example, an outdoor gear store may offer wilderness survival workshops, teaching customers valuable skills and creating a sense of loyalty. These experiences strengthen the brand-consumer relationship.
29. Gamification and Interactive Challenges
Gamifying the shopping experience can make it more engaging and fun. Think of in store scavenger hunts or interactive challenges. For example, a toy store might organize a treasure hunt where customers must find specific items to earn discounts or prizes, creating an exciting and memorable shopping adventure.
30. Live Entertainment and Performances Live entertainment, such as music performances or artistic displays, can add an element of surprise and delight to the shopping experience. Shopping centers often host live music events, creating a festive atmosphere and encouraging customers to spend more time in the vicinity.
31. Virtual Reality (VR) Showrooms
While virtual reality (VR) can be used in various industries, furniture stores, like IKEA, have taken advantage of VR showrooms. Customers can put on VR headsets to walk through a fully furnished room, visualizing how furniture pieces fit together. This tech-savvy approach enhances the decision-making process and immerses customers in a unique, futuristic experience.
32. Customization Studios
Offering customization studios where customers can personalize products to their liking adds a sense of exclusivity and ownership. Brands like Converse offer customers the ability to design their own sneakers in stores. This personalization fosters a connection between the customer and the product, increasing brand loyalty.
33. Interactive Mirrors with Gesture Control
Interactive mirrors with gesture control, like those used in the fashion brand Ralph Lauren's fitting rooms, allow customers to adjust lighting, request different sizes, and even select music to match their preferences. These high-tech mirrors provide a dynamic and personalized shopping experience that resonates with tech-savvy customers.
34. Personal Shopping Assistants and Stylists
Empowering customers with personal shopping assistants or stylists who provide expert advice, create curated looks, and offer a tailored shopping experience can turn a routine shopping trip into a luxurious and valuable experience. High-end fashion retailers like Neiman Marcus often employ personal shopping assistants to cater to discerning clients.
35. QR Code Scanning for Product Information
QR codes placed near products can allow customers to scan and instantly access detailed product information, reviews, and even related video content. This digital bridge enhances transparency and knowledge, assisting customers in making informed purchasing decisions.
36. 360° Projection Mapping
Projection mapping technology can transform the entire store environment. Consider a sporting goods store using projection mapping to create immersive environments where customers can virtually test products. For instance, they can simulate skiing down a mountain or hiking through a forest, allowing customers to experience the product's capabilities in an engaging and memorable way.
37. Seasonal or Themed Transformation
Rather than simply decorating for the holidays, retailers can undergo complete store transformations for specific seasons or themes. For example, a bookstore might rebrand itself as a magical wizarding school during the release of a new fantasy novel. These thematic transformations create a sense of novelty and adventure for customers, drawing them into a new world with every visit.
38. Interactive Storytelling Stations
Storytelling has the power to captivate customers' emotions and imaginations. Brands can set up interactive storytelling stations where customers can immerse themselves in the brand's history or narrative. For example, a heritage clothing brand can incorporate vintage artifacts, videos, and interactive displays that narrate the brand's journey and its commitment to timeless fashion.
39. Virtual Styling and Makeup Try-Ons
Virtual styling and makeup try-on stations are perfect for fashion and beauty retailers. Customers can use augmented reality (AR) mirrors or screens to virtually try on different outfits or experiment with makeup looks. It personalizes the shopping experience, helping customers make confident choices and creating a sense of exploration.
40. Social Media Integration
Integrate social media elements into your store to leverage user-generated content. Create designated areas where customers can snap pictures, tag your store on social media, and see their posts displayed in-store. This not only encourages user engagement but also generates buzz around your brand.
41. Micro-Targeted Promotions
Use data analytics to micro-target individual customers. For instance, a grocery store can send personalized offers or discounts to a customer's smartphone as they walk through the store, based on their purchase history and preferences. These customized promotions can increase sales and enhance customer loyalty.
42. Augmented Reality Treasure Hunts
Turn shopping into an adventure by organizing augmented reality (AR) treasure hunts within your store. Customers can use their smartphones to hunt for virtual items or clues throughout the store. Successful completion can lead to discounts or prizes, making the shopping experience interactive and exciting.
43. Branded Store Music and Playlists
Create branded store soundtracks that immerse customers in your brand's atmosphere. Music streaming services like Spotify allow businesses to curate and share playlists. By playing music that resonates with your brand, you can enhance the shopping environment and create a memorable audio experience.
44. Sustainability Workshops
As sustainability becomes increasingly important to consumers, retailers can host workshops that teach customers about sustainable practices and provide tips for eco-friendly living. A home improvement store, for example, can organize workshops on energy-efficient home upgrades, demonstrating their commitment to sustainability and educating customers.
45. Interactive Art Installations
Collaborate with local artists to create interactive art installations in your store. These installations can engage customers on a deeper level and reflect the store's values. For instance, an eco-conscious store could host an interactive art exhibit that encourages visitors to think about environmental preservation.
46. Mystery Shopping Challenges
Mystery shopping challenges can add an element of intrigue and competition. Customers are given a list of products to find or tasks to complete, encouraging them to explore the store thoroughly. Once they finish, they can claim rewards, discounts, or entries into sweepstakes, creating a sense of excitement and engagement.
47. Sustainable Packaging Stations
Brands can set up stations where customers can create eco-friendly packaging for their purchases. Using recycled materials, customers can craft their own bags, wrapping paper, or boxes, aligning with the store's sustainability values and fostering a sense of involvement.
48. Reciprocal Customer Feedback
Create a reciprocal system of feedback and reward. Customers who provide valuable feedback, such as product reviews or store suggestions, receive exclusive discounts or early access to sales. This strategy encourages customer engagement while also providing valuable insights for continuous improvement.
49. Personalized Product Demonstrations
Offer personalized product demonstrations tailored to the customer's preferences and needs. A technology retailer, for instance, can provide personalized tutorials on using specific devices, showcasing features that align with the customer's interests.
50. Movable Store Layouts
Experiment with a movable store layout that can be adjusted to cater to different events or customer needs. An apparel store, for example, can reconfigure its layout to accommodate a fashion show or create an exclusive space for a brand launch, keeping the store's atmosphere dynamic and evolving.
51. Sensory Branding Zones
Dedicate areas in your store to specific sensory experiences that align with your brand. For example, a high-end tea shop can have a tea-tasting zone where customers can sample different blends and experience the aroma, taste, and texture of premium teas, creating a multi-sensory journey.
52. Augmented Reality Product Stories
Leverage augmented reality (AR) to provide customers with immersive product stories. For instance, a wine retailer can place AR markers on wine labels that, when scanned with a smartphone, display videos or animations revealing the vineyard's history, winemaking process, and food pairings, enriching the purchase experience.
53. In-Store Virtual Concierge
Implement a virtual concierge service with large touchscreen kiosks or interactive displays. Customers can use these stations to get personalized recommendations, directions within the store, or assistance with product information. This not only enhances customer experience but also reduces the need for additional staff.
54. Dynamic Pricing Displays
Integrate dynamic pricing displays to show real-time price fluctuations. Airlines have successfully used dynamic pricing, where ticket prices change based on demand and seat availability. Implementing a similar approach, retailers can create a sense of urgency and encourage customers to make purchasing decisions based on live price updates.
55. Interactive Mirrors with Wardrobe Suggestions
Take interactive mirrors a step further by incorporating AI-powered wardrobe suggestions. Customers can select a few clothing items, and the mirror can recommend complementary pieces, creating a virtual stylist within the fitting room. This elevates the shopping experience and drives additional sales.
56. Socially Responsible Initiatives Incorporate socially responsible initiatives that resonate with customers. A bookstore can have a 'Book Sharing Corner,' where customers can leave or take pre-loved books, promoting community and sustainability. Such initiatives not only reflect corporate values but also build goodwill among customers.
57. Personalized Fragrance Blending
Create a fragrance blending station where customers can mix and match scents to create their own personalized fragrances. This approach appeals to a wide range of industries, from perfumeries to bath and body shops, providing a unique and sensorial experience.
58. Nostalgic Pop-Up Zones
Set up nostalgic pop-up zones that transport customers back in time. A department store can dedicate a section to a specific decade, with period-appropriate merchandise, decor, and music. Nostalgia is a powerful emotion, and such zones can evoke fond memories, leading to increased customer engagement.
59. In-Store Loyalty Challenges
Encourage customer loyalty with in-store challenges. Create fun and rewarding games or challenges that customers can participate in, earning loyalty points or exclusive discounts for completing them. This gamification approach keeps customers engaged and coming back for more.
60. Surprise and Delight Moments
Surprise customers with unexpected moments of delight. For example, a cafe can randomly choose a customer each day to receive a free drink or dessert. These spontaneous acts of generosity create positive emotions and leave a lasting impression on customers.
61. Mood-Enhancing Scent Machines
Incorporate scent machines that emit various fragrances to enhance the store's ambiance. For example, a wellness store can use essential oil diffusers to create a relaxing environment, while a bakery can infuse the air with the enticing aroma of freshly baked goods.
62. Interactive Food Sampling Stations
For grocery stores or food retailers, go beyond traditional product sampling. Set up interactive food sampling stations where customers can assemble their own appetizers or small dishes using provided ingredients. This hands-on experience encourages exploration and culinary creativity.
63. Green Spaces and Indoor Gardens
Introduce indoor green spaces and mini-gardens within your store. These areas provide a peaceful and refreshing atmosphere, perfect for relaxation and contemplation. Customers can take a break from shopping and enjoy the greenery.
64. Augmented Reality Scavenger Hunts
Enhance the shopping adventure with augmented reality (AR) scavenger hunts. Provide customers with AR-equipped devices or encourage them to use their smartphones to discover hidden items, unlock discounts, or access exclusive content throughout the store.
65. Holographic Product Presentations
Embrace holographic technology to showcase products in a futuristic and captivating way. For example, a high-end watch retailer can use holographic displays to project 3D models of their timepieces, allowing customers to examine intricate details without touching the physical products.
66. Mini Art Galleries for Local Artists
Support local artists by featuring rotating mini art galleries within your store. Customers can admire and purchase artworks while shopping. This approach not only adds a cultural and community aspect to your store but also attracts art enthusiasts and collectors.
67. Interactive Product Customization Walls
Allow customers to personalize their products through interactive customization walls. A shoe store, for instance, can offer a touchscreen wall where customers design their own sneakers, selecting colors, materials, and even adding personal touches, resulting in unique, one-of-a-kind purchases.
68. In-Store Escape Rooms
Create an immersive experience with in-store escape rooms that challenge customers to solve puzzles and complete a mission within a set time. Sporting goods stores can design escape rooms that simulate outdoor adventures, promoting their gear in a fun and memorable way.
69. Sustainable Product Swap Stations
Support sustainability and eco-conscious shopping by setting up product swap stations. Customers can bring in used or unwanted items in exchange for store credits or discounts on new purchases. This initiative promotes recycling, reduces waste, and builds a loyal eco-friendly customer base.
70. Niche Expert Pop-Up Consultations
Bring in niche experts for pop-up consultations or workshops related to your products. For example, a high-end tea shop can host tea connoisseurs who provide insights into rare tea varieties, brewing techniques, and flavor pairings, enhancing the customer's knowledge and appreciation of your products.
71. In-Store Live Streams and Q&A Sessions
Engage with customers beyond the store's physical walls by live-streaming events or hosting live Q&A sessions. For instance, a tech store can live-stream product demonstrations and Q&A sessions with tech experts, allowing customers to participate and ask questions remotely.
72. Reverse Showrooming
Embrace the trend of "reverse showrooming." Some retailers intentionally encourage customers to browse products in-store and then make their purchase online. This can be a strategic move if you operate both physical and online stores, as it allows customers to experience products firsthand and then take advantage of online deals or incentives.
73. Interactive Seating Areas
Create interactive seating areas where customers can relax, charge their devices, and interact with touchscreens. This concept can be particularly appealing for electronics or home entertainment stores. Customers can explore the latest gadgets and technology while enjoying comfortable seating and connectivity.
74. Inclusive and Adaptive Shopping Experiences
Ensure your store is inclusive by offering adaptive shopping experiences for customers with various abilities. Provide wheelchair-friendly ramps, height-adjustable shelving, and sensory-friendly areas to create a welcoming and accessible environment for all customers.
75. Limited-Edition Collaboration Drops
Collaborate with other brands or designers to release limited-edition collections or products. These exclusive drops create a sense of urgency, generate excitement, and drive customer traffic to your store. The uniqueness of the products fosters a feeling of rarity and desirability.
76. Language and Cultural Engagement
For international or multicultural stores, engage customers by creating language-specific sections and culturally relevant experiences. For example, a global cosmetics store can provide language-specific beauty consultations, ensuring that customers feel comfortable and understood, regardless of their native language.
77. Celebrity or Influencer Store Takeovers
Invite celebrities or social media influencers to take over your store for a day. They can curate their favorite products, host meet-and-greets, or provide exclusive content. The influencer's presence can draw a dedicated fan base to your store and create buzz around your products.
78. Gamified Donations and Charitable Initiatives
Combine gaming and charity by setting up gamified donation stations. For example, a pet store can have a virtual pet game where customers can 'feed' digital animals by making donations. The funds raised can support animal rescue organizations, fostering goodwill and community involvement.
79. Nighttime Shopping Events
Host special nighttime shopping events, complete with live music, refreshments, and exclusive nighttime-only discounts. This approach caters to customers with different schedules and creates a unique shopping atmosphere.
80. Mood-Enhancing Soundscapes
Create customized soundscapes for different areas of your store, complementing the shopping experience. A bookstore can have areas with soft, classical music for a peaceful atmosphere, while an electronics section may play upbeat, modern tunes to evoke excitement.
81. Interactive Art Installations
Incorporate interactive art installations that allow customers to become a part of the artwork. For example, a fashion store can have a display where customers can don unique clothing pieces and accessories to take photos, creating a personalized fashion photoshoot experience.
82. Outdoor Pop-Up Experiences
Extend your in-store marketing to the outdoors by creating pop-up experiences. For instance, a home improvement store can set up an outdoor garden area to showcase gardening tools and furniture, encouraging customers to explore outdoor living concepts.
83. Cryptocurrency Payment Options Embrace the future of finance by accepting cryptocurrency as a payment method. This strategy caters to tech-savvy customers and can position your store as forward-thinking and cutting-edge.
84. Augmented Reality Store Navigation Implement augmented reality store navigation apps that help customers find products quickly and efficiently. Customers can use their smartphones to scan items on their shopping list, and the app guides them to the exact aisle or section where the product is located.
85. In-Store Cooking Classes For stores that sell kitchenware or gourmet food products, offer in-store cooking classes. Customers can learn to prepare dishes using the products you sell, making the shopping experience educational and interactive.
86. Ephemeral In-Store Art
Create an ever-changing art space in your store with a rotation of ephemeral art, such as chalkboard murals, sand art, or temporary sculptures. These art displays add an element of surprise and novelty to each visit, giving customers a reason to return regularly.
87. Subscription-Exclusive Shopping Hours
Reserve certain hours exclusively for subscription members, where they can shop before the general public or access special discounts. This strategy promotes loyalty and encourages customers to subscribe to your service.
88. Live Product Demonstrations and Workshops
Host live product demonstrations or workshops where customers can see how to use or assemble products. For instance, a tech store can demonstrate the latest gadgets and their features, giving customers a hands-on experience.
89. Dynamic Product Recommendations
Implement artificial intelligence to provide dynamic product recommendations based on a customer's in-store behavior and preferences. For example, a bookstore can display book recommendations on digital screens that change as customers browse different sections.
90. Voice-Controlled Shopping Assistants
Integrate voice-controlled shopping assistants that allow customers to ask questions, get information about products, or receive personalized recommendations. This approach caters to customers who prefer voice interactions over traditional touchscreens.
91. Sustainable Packaging Workshops Educate customers on sustainable packaging choices by offering workshops where they can learn how to wrap gifts in eco-friendly, reusable materials. This initiative aligns with eco-conscious customers' values and encourages responsible consumption.
92. Health and Wellness Consultations If your store sells health or wellness products, offer consultations with experts like nutritionists, personal trainers, or holistic healers. These consultations can help customers make informed decisions and establish a deeper connection with your brand.
93. Cryptic Clue Promotions
Create cryptic clue promotions where customers decipher clues to find hidden discounts or secret products within the store. This adds an element of excitement and mystery to the shopping experience.
94. Multi-Sensory Product Displays
Enhance product displays by incorporating multiple senses. For instance, a candle store can have an area where customers can not only see but also touch, smell, and hear the sounds of different scented candles, making the shopping experience highly immersive.
95. Virtual Trade-Ins and Upgrades
Offer virtual trade-in and upgrade programs for electronic devices. Customers can use a digital kiosk to assess the trade-in value of their old devices and explore options for upgrading to the latest models.
96. Virtual Reality (VR) Shopping Adventures
Integrate virtual reality (VR) headsets or devices that transport customers on virtual shopping adventures. For example, a travel agency can allow customers to "visit" destinations they offer by virtually exploring local attractions and experiences, sparking wanderlust and travel bookings.
97. Nostalgic Vending Machines
Install vending machines that dispense nostalgic or retro items. For example, a toy store could have a vending machine that dispenses vintage toys from past decades. This concept taps into customers' nostalgia and adds an element of surprise to their shopping trip.
98. Personalized Digital Gifting Assistants
Create digital assistants or chatbots that help customers find the perfect gifts. Customers can answer questions about the recipient, their preferences, and the occasion, and the assistant generates tailored gift suggestions, making the shopping process easier and more thoughtful.
99. In-Store Virtual Races and Challenges
Host in-store virtual races or challenges that engage customers in friendly competition. For example, a sports equipment store could set up stationary bikes with virtual racing tracks, allowing customers to compete against each other while promoting fitness and the products for sale.
100. Multi-Lingual Voice-Guided Shopping
Provide multi-lingual voice-guided shopping assistance. Customers can use voice commands or smart devices to receive product information, directions, and recommendations in their preferred language, creating an inclusive and personalized shopping experience for diverse clientele.
101. Personalized In-Store Music Playlists
Offer customers the ability to curate their own in-store music playlists. Through a mobile app or kiosk, they can select songs from a predetermined library, allowing them to shape their shopping environment and creating a sense of ownership in the store's atmosphere.
102. Eco-Friendly Recycling Stations
Set up eco-friendly recycling stations where customers can bring in and recycle specific items, such as old electronics, batteries, or clothing. Reward their eco-conscious efforts with discounts, vouchers, or loyalty points.
103. Seasonal Scentscapes
Change the scent of your store with the seasons to create a seasonal atmosphere. In the spring, for example, infuse the store with the scent of blooming flowers, and in the winter, use cozy scents like cinnamon and pine. This sensory approach adds to the immersive shopping experience.
104. Augmented Reality (AR) Hidden Messages
Hide augmented reality (AR) messages or clues throughout the store that customers can uncover using AR apps. When scanned, these hidden messages may reveal exclusive discounts, product information, or gamified elements, enhancing the sense of exploration.
105. Kid-Friendly Play Areas
For stores catering to families, create kid-friendly play areas where children can engage in educational or entertaining activities while parents shop. These areas can feature interactive games, books, or creative spaces, offering a family-friendly shopping experience.
106. In-Store Radio Shows
Broadcast in-store radio shows or podcasts featuring customer reviews, product spotlights, and expert interviews. Customers can tune in as they shop or access these shows via QR codes or the store's app, enhancing the shopping experience with informative and entertaining content.
107. Personality Quizzes for Product Recommendations
Develop personality quizzes that help customers discover products that match their unique tastes and preferences. For example, a wine store can have a quiz that suggests wine selections based on customers' flavor preferences and personality traits.
108. In-Store Mini Exhibitions
Rotate mini exhibitions within your store that showcase themes or topics related to your products. For example, a camera store can host a photography exhibition featuring works of local photographers, adding cultural value and promoting customer interaction.
109. Interactive Sustainability Scorecards
Implement interactive sustainability scorecards for products, providing customers with transparent information on the environmental impact of their purchases. This empowers eco-conscious consumers to make informed choices and supports sustainable shopping.
110. In-Store Sports Challenges
Create in-store sports challenges for fitness-related stores. Customers can compete in activities like timed push-up or yoga challenges, with prizes or discounts awarded to top performers, promoting an active and engaging atmosphere.
In summary, in-store marketing is a multifaceted discipline with a myriad of strategies and elements that, when used effectively, can drive customer engagement, loyalty, and sales. By understanding the nuances of each component and learning from real-world examples, retailers can craft an in-store marketing strategy that resonates with their target audience and positions them for success in a competitive marketplace.
Conclusion
In conclusion, our exploration of the "All in One Guide to In Store Marketing" illuminates the multifaceted landscape of retail strategy, offering a comprehensive blueprint for brands aspiring to create impactful and memorable in-store experiences. Through the diverse array of topics covered — from layout optimization and immersive displays to customer engagement strategies and unique case studies — it becomes evident that in store marketing is an art that combines creativity, consumer psychology, and a keen understanding of evolving market dynamics.
This guide underscores the pivotal role of in store marketing in an era where customer expectations are dynamic, and the retail environment is continually evolving. It goes beyond the conventional understanding of in store tactics, delving into the nuances that transform a mere shopping transaction into a holistic and engaging customer journey. The importance of creating tangible experiences, curating a distinct brand identity within the physical space, and leveraging technology to enhance customer interactions stands out as foundational principles for success in the competitive retail landscape.
As we reflect on the diverse strategies and ideas presented in this guide, it's clear that successful in-store marketing is not a one-size-fits-all endeavour. Instead, it requires a nuanced approach, an understanding of the target audience, and a commitment to continuous innovation. The guide serves as a dynamic resource, offering insights into the latest trends, emerging technologies, and proven techniques that have propelled brands to the forefront of retail excellence.
Moreover, the guide emphasizes the symbiotic relationship between online and offline strategies, recognizing that a seamless omnichannel experience is key to meeting the expectations of the modern consumer. The intersection of physical and digital realms presents a myriad of opportunities for brands to connect with their audience, utilizing data-driven insights and personalized approaches to forge lasting relationships.
In essence, this "All in One Guide to In-Store Marketing" is not just a compilation of strategies; it's a call to action for brands to reevaluate, reimagine, and reinvent their in store presence. It encourages a mindset shift from transaction-focused thinking to experience-centric strategies that resonate with the desires and expectations of today's consumers. As we navigate the evolving landscape of retail, this guide serves as a compass, guiding brands toward a future where in store marketing isn't just a necessity but a dynamic force that propels them to the forefront of consumer consciousness. The journey doesn't end here; it's an invitation for brands to embark on a continuous quest for innovation, adaptation, and the creation of in-store experiences that captivate, inspire, and endure in the hearts and minds of their customers.
You May Also Like