Learn in this Article The Ultimate Influence of Supermarkets on Consumer Food Trends and Habits and how it Shapes Culinary Landscapes
Introduction
The landscape of consumer food trends has undergone significant transformations over the years, and at the epicenter of these changes lies the supermarket – the quintessential hub where consumers connect with the ever-evolving world of culinary possibilities. In this detailed exploration, we delve into the multifaceted ways in which we uncover the Rising Supermarket Influence on Consumer Food Trends, shaping not only what we eat but also how we perceive and engage with the culinary realm.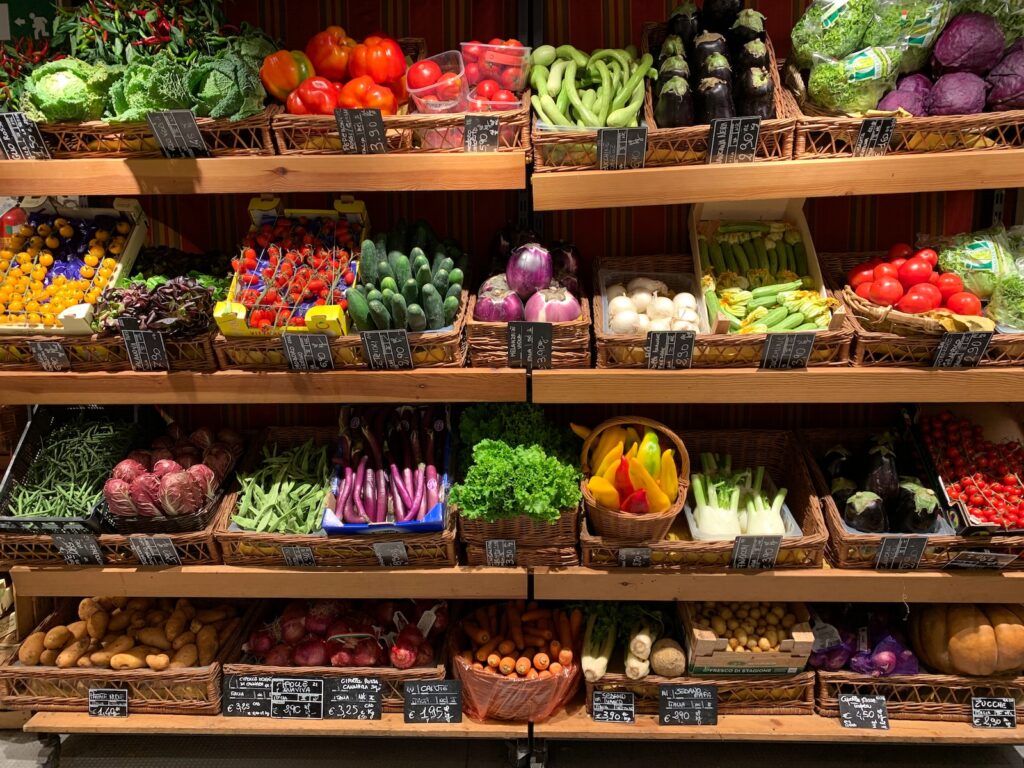 Diverse Product Offerings: A Culinary Playground
Supermarkets stand as veritable culinary playgrounds, offering an astonishing array of diverse products that reflect the rich tapestry of global gastronomy. From the staple ingredients of traditional cuisines to exotic delicacies waiting to be discovered, the sheer variety found within supermarket aisles elevates the act of grocery shopping to a sensory and exploratory experience.
International Aisles: Global Gastronomic Exploration – Supermarkets have dedicated international aisles that transport shoppers on a global culinary journey. These sections are a celebration of diverse cultures, offering ingredients and products that bring the authentic flavors of far-off lands right to the local grocery store. Whether it's Italian pasta, Indian spices, or Japanese sauces, these international aisles influence consumer food trends by inspiring experimentation with flavors from around the world.
Ethnic Specialty Sections: Showcasing Culinary Diversity – Beyond the generic international aisles, many supermarkets now include specialized sections dedicated to specific ethnic cuisines. These sections cater to the growing demand for authenticity, featuring products that might not be readily available elsewhere. For instance, a designated Latin American or Middle Eastern section becomes a source of inspiration for those looking to recreate traditional dishes at home, shaping consumer food trends by promoting cultural inclusivity.
Organic and Natural Foods: A Focus on Wellness – The rising emphasis on health and wellness has led supermarkets to expand their offerings of organic and natural foods. Organic produce, free-range meats, and products devoid of artificial additives have become staples in supermarkets. This shift towards healthier choices is a significant influence on consumer food trends, reflecting an increasing awareness of the impact of diet on overall well-being.
Artisanal and Craft Products: Elevating the Gourmet Experience – Supermarkets now boast artisanal sections that showcase handcrafted and locally produced goods. From small-batch chocolates to artisanal cheeses, these products emphasize quality and uniqueness. This culinary trend influences consumers to appreciate the craftsmanship behind their food, fostering a desire for high-quality, distinctive items that contribute to a more refined gastronomic experience.
Plant-Based Alternatives: Meeting Dietary Preferences – Supermarkets are responding to the growing demand for plant-based alternatives by dedicating sections to vegetarian and vegan products. Plant-based meats, dairy-free cheeses, and innovative meat substitutes are now readily available. This reflects the shift in consumer food trends towards more sustainable and cruelty-free options, catering to those adopting flexitarian, vegetarian, or vegan lifestyles.
The Rise of Convenience Foods: Shifting Lifestyles
The fast-paced nature of modern life has led to a significant shift in consumer lifestyles, and supermarkets have adapted by championing the rise of convenience foods. These ready-to-eat or easy-to-prepare options align with the evolving needs of shoppers, influencing not only what ends up in their grocery carts but also how they approach meal planning and preparation.
Ready-to-Eat Meals: A Culinary Shortcut – Supermarkets now offer an extensive array of ready-to-eat meals that cater to individuals with time constraints or those who lack culinary expertise. From gourmet salads to international cuisines prepared on-site, these convenient options influence consumer food trends by providing quick and satisfying solutions for busy lifestyles.
Meal Kits: Culinary Adventures at Home – The rise of meal kit services within supermarkets has revolutionized home cooking. These kits, containing pre-portioned ingredients and step-by-step instructions, empower consumers to try their hand at preparing restaurant-quality meals in the comfort of their homes. This trend influences consumer food preferences by combining the convenience of pre-packaged ingredients with the satisfaction of preparing a home-cooked meal.
Pre-Cut and Pre-Packaged Produce: Minimizing Prep Time – Recognizing the need for time-saving solutions, supermarkets have introduced pre-cut and pre-packaged produce. From diced vegetables for stir-fries to pre-marinated meats, these offerings streamline meal preparation, catering to consumers seeking convenience without compromising on freshness. This convenience-driven trend shapes consumer food preferences by making healthy, home-cooked meals more accessible.
Snack Packs and On-the-Go Options: Portable Convenience – Supermarkets have expanded their offerings to include an array of on-the-go snack packs and convenience-focused options. From single-serving hummus containers to protein-packed snack packs, these items cater to busy lifestyles and influence consumer food trends by redefining snacking habits, providing nutritious alternatives to traditional, less healthy options.
Frozen and Heat-and-Eat Foods: Long-Term Convenience – Supermarkets have embraced the frozen food aisle as a haven for convenience. Frozen meals, whether fully prepared or heat-and-eat options, offer a solution for those seeking a balance between time constraints and a desire for home-cooked flavors. This trend influences consumer food choices by presenting a diverse range of convenient, yet satisfying, meal options.
In essence, supermarkets have become dynamic arenas where the diverse and the convenient converge, shaping the culinary preferences of consumers in tandem with their ever-evolving lifestyles. The balance between offering a myriad of culinary choices and simplifying the cooking process reflects a nuanced understanding of modern consumer needs, positioning supermarkets as key players in shaping the future of our dining experiences.
Health and Wellness: Nurturing Nutritional Awareness
Supermarkets have emerged as educators in the realm of health and wellness, influencing consumers to make informed dietary choices. The prominence of health-focused sections, clear nutritional labeling, and partnerships with nutritionists contribute to a heightened awareness of the nutritional content of food items, thereby shaping healthier consumer food trends. This shift represents a conscious effort to encourage healthier eating habits, informed choices, and an overall well-balanced lifestyle.
Dedicated Health Sections: Curating Nutrient-Rich Options – Many supermarkets now feature dedicated health sections, strategically placed to catch the eye of health-conscious consumers. These sections curate a selection of nutrient-rich foods, including superfoods, organic produce, and products low in added sugars and preservatives. By prominently displaying these items, supermarkets influence consumer food trends by making healthier choices more visible and accessible.
Clear Nutritional Labeling: Empowering Informed Choices – Supermarkets play a crucial role in promoting nutritional transparency through clear and detailed labeling. Labels now provide comprehensive information on calorie content, nutritional values, and ingredient lists. This emphasis on transparency empowers consumers to make informed choices, fostering a sense of control over their dietary decisions and influencing consumer food trends toward more health-conscious options.
Collaboration with Nutritionists: In-Store Guidance – To further enhance nutritional awareness, some supermarkets have introduced in-store nutritionists or dietitians. These professionals offer personalized guidance to shoppers, answering questions, providing dietary advice, and even hosting workshops. By incorporating expert advice directly into the shopping experience, supermarkets influence consumer food trends by promoting not only healthier choices but also a deeper understanding of nutritional needs.
Wellness Programs and Challenges: Fostering Healthy Habits – Supermarkets are increasingly launching wellness programs and challenges, encouraging customers to adopt healthier habits. These initiatives may include discounts on healthier products, rewards for reaching wellness goals, or community challenges. By creating a supportive environment for healthier living, supermarkets influence consumer food trends by turning nutrition into an integral part of a broader wellness journey.
Alternative Dietary Options: Catering to Diverse Needs – The surge in awareness of various dietary preferences and restrictions has prompted supermarkets to expand their offerings of alternative foods. Whether catering to gluten-free, vegan, or keto diets, supermarkets influence consumer food trends by ensuring that individuals with diverse dietary needs can find suitable and flavorful options, contributing to a more inclusive and health-conscious culinary landscape.
Local and Sustainable Sourcing: A Shift Towards Conscious Consumerism
The emphasis on local and sustainable sourcing in supermarkets has sparked a consumer-driven movement towards conscious consumerism. As shoppers become more aware of the environmental and ethical impact of their food choices, supermarkets are responding by showcasing locally sourced and sustainably produced items, influencing consumer food trends towards eco-friendly and ethically sound options.
Supermarkets are at the forefront of a transformative movement towards local and sustainable sourcing, responding to a growing consumer desire for environmentally conscious and ethically produced food options. This shift reflects a broader societal move towards conscious consumerism and a desire to support local economies.
Local Produce Sections: Showcasing Regional Flavors – Supermarkets are increasingly integrating local produce sections, showcasing fruits, vegetables, and artisanal products sourced from nearby farms and producers. By highlighting regional flavors, supermarkets influence consumer food trends by encouraging a connection to local agriculture, reducing the carbon footprint associated with long-distance transportation, and supporting the economic sustainability of local communities.
Certifications and Labels: Communicating Ethical Sourcing – To communicate their commitment to sustainable and ethical sourcing, supermarkets often display certifications and labels on products. These may include Fair Trade, Rainforest Alliance, or other sustainability certifications. By making these labels visible, supermarkets influence consumer food trends by providing shoppers with a clear indication of the ethical and environmental practices associated with a product.
Reducing Plastic Packaging: A Sustainable Initiative – In response to environmental concerns, supermarkets are actively working to reduce plastic packaging. From offering reusable bags to promoting the use of bulk bins, supermarkets are adopting practices that minimize waste. This commitment to sustainability influences consumer food trends by aligning with the growing demand for eco-friendly and plastic-free packaging options.
Farm-to-Table Initiatives: Strengthening Local Supply Chains – Supermarkets are participating in farm-to-table initiatives that strengthen local supply chains. By establishing direct relationships with local farmers and producers, supermarkets reduce the intermediaries in the supply chain, ensuring fresher products and fairer compensation for local producers. This shift influences consumer food trends by promoting transparency and accountability in the sourcing process.
Educational Campaigns: Raising Awareness on Sustainability – Supermarkets are launching educational campaigns to raise awareness about sustainable and local sourcing practices. These campaigns may include information on the environmental impact of food choices, the benefits of supporting local agriculture, and the importance of ethical sourcing. By fostering awareness, supermarkets influence consumer food trends by inspiring more conscious and informed purchasing decisions.
Community-Supported Agriculture (CSA) Programs: Direct Support for Local Farms – Some supermarkets facilitate Community-Supported Agriculture (CSA) programs, allowing consumers to subscribe to regular deliveries of fresh, locally grown produce directly from nearby farms. This direct support for local farms influences consumer food trends by creating a more direct connection between consumers and producers, fostering a sense of community and accountability in the food supply chain.
Sustainable Seafood Initiatives: Protecting Marine Ecosystems – Recognizing the impact of fishing practices on marine ecosystems, supermarkets are adopting sustainable seafood initiatives. By sourcing seafood from fisheries that adhere to responsible and environmentally friendly practices, supermarkets influence consumer food trends by promoting the conservation of ocean resources and protecting marine biodiversity.
In conclusion, the profound influence of supermarkets on consumer food trends extends beyond the products on the shelves. By actively engaging in promoting health-conscious choices, supporting local and sustainable sourcing practices, and educating consumers about the broader impact of their food choices, supermarkets have become catalysts for a more mindful and conscientious approach to culinary consumption. The ongoing evolution of these trends signifies a paradigm shift towards a more sustainable, ethical, and health-focused future in the world of food retail.
Innovations in Culinary Technology: Supermarket-Driven Food Tech
Supermarkets are at the forefront of culinary technology innovations, introducing consumers to new and exciting ways of engaging with food. From in-store cooking demonstrations to apps that provide recipe suggestions based on purchased items, these technological advancements not only enhance the shopping experience but also influence consumer food trends by integrating technology into the culinary journey. This evolution is marked by a spectrum of advancements, from interactive in-store experiences to digital solutions that seamlessly blend technology with the culinary exploration process.
In-Store Cooking Demonstrations: A Feast for the Senses – Supermarkets are increasingly incorporating in-store cooking demonstrations as a means of engaging and educating shoppers. Professional chefs or culinary experts showcase the preparation of dishes using products available in the store. This multisensory experience not only tantalizes taste buds but also influences consumer food trends by providing inspiration and practical tips for incorporating diverse ingredients into home-cooked meals.
Interactive Digital Displays: A Visual Culinary Experience – Supermarkets are deploying interactive digital displays that allow shoppers to engage with visually appealing content related to food and cooking. These displays may feature recipe videos, cooking tips, and information about featured products. This visual and interactive approach influences consumer food trends by creating an immersive environment that goes beyond traditional printed materials, sparking curiosity and encouraging experimentation.
Smart Shopping Apps: Recipe Suggestions at Your Fingertips – Smart shopping apps have become integral tools for modern consumers, offering features that extend beyond creating shopping lists. Some supermarkets have developed apps that utilize machine learning algorithms to analyze a shopper's purchase history. Based on past preferences, these apps provide personalized recipe suggestions, turning the act of grocery shopping into a curated culinary experience. This technological integration influences consumer food trends by introducing an element of personalization and discovery.
Smart Shelves and RFID Technology: Real-Time Inventory Management – Smart shelves equipped with RFID (Radio-Frequency Identification) technology contribute to real-time inventory management. These shelves detect when products are picked up or put back, ensuring accurate stock levels and reducing the chances of items being out of stock. This technological advancement not only streamlines supermarket operations but also influences consumer food trends by ensuring a consistently well-stocked selection. Consumers, appreciating the efficiency of their shopping experience, may explore new and diverse products without concerns about items being out of stock. This promotes a trend towards increased experimentation and variety in food choices. Consumers, seeking efficiency, may opt for a larger variety of products without the concern of a time-consuming checkout process. This promotes a trend towards convenience-oriented food choices and encourages impulse purchases.
Digital Cooking Classes: Remote Culinary Learning – Supermarkets are extending their reach beyond physical locations by offering digital cooking classes. These virtual sessions, accessible through online platforms or dedicated apps, enable consumers to learn culinary skills and explore new recipes from the comfort of their homes. This digital approach influences consumer food trends by democratizing access to culinary education and encouraging experimentation with diverse ingredients.
Automated Checkout and Cashless Transactions: Streamlined Processes – Automated checkout systems and cashless transactions have become commonplace in supermarkets. From self-checkout kiosks to mobile payment apps, these innovations streamline the payment process, reducing wait times and enhancing overall efficiency. This technology-driven convenience influences consumer food trends by aligning with the demand for faster and more frictionless transactions. Consumers, especially those with hectic schedules, may prioritize food items that align with quick and convenient meal preparation, such as pre-cut vegetables, ready-to-cook proteins, and time-saving ingredients.
Cultural Integration: Exploring Global Cuisines
Supermarkets serve as cultural ambassadors, introducing consumers to diverse global cuisines. The dedicated international aisles, stocked with products and ingredients from around the world, inspire culinary exploration and contribute to the globalization of tastes. Supermarkets, in this way, shape consumer food trends by fostering an appreciation for and integration of various cultural flavors into everyday meals.
E-Commerce and Online Shopping: Reshaping the Retail Experience
The advent of e-commerce has revolutionized the way consumers access and purchase food products. Online supermarkets and grocery delivery services have expanded choices, enabling consumers to explore a broader range of products and influences from the comfort of their homes. This shift in retail dynamics has a profound impact on consumer food trends, altering the traditional supermarket experience.
Seasonal and Limited-Edition Offerings: Creating Culinary Excitement
Supermarkets strategically leverage seasonal and limited-edition offerings to create a sense of culinary excitement. The introduction of special editions, themed products, and seasonal ingredients influences consumer food trends by encouraging a sense of novelty and anticipation, prompting consumers to try new and exclusive items.
Brand Collaborations and Celebrity Endorsements: Culinary Influencers
Supermarkets often collaborate with brands and celebrities, turning them into culinary influencers. Whether it's a chef endorsing a particular line of products or a popular food brand collaborating with a celebrity, these partnerships influence consumer food trends by associating certain items with trusted and admired figures in the culinary world.
The Social Aspect of Shopping: Shared Culinary Experiences
Supermarkets have transformed from mere retail spaces to social hubs, encouraging shared culinary experiences. From food tastings and cooking classes to themed events, supermarkets are fostering a sense of community around food. This social aspect influences consumer food trends by making food not just a commodity but a shared cultural experience.
Conclusion
In conclusion, supermarkets wield immense influence over consumer food trends, acting as dynamic platforms that shape, respond to, and even anticipate the evolving culinary preferences of society. From the diversity of products offered to the integration of technology and the promotion of sustainable practices, supermarkets play a crucial role in shaping not only what we eat but how we engage with the ever-expanding world of food possibilities. As these trends continue to evolve, supermarkets will undoubtedly remain at the forefront of culinary innovation, shaping the future of our gastronomic experiences.
You May Also Like