Introduction to Out of Store Marketing
Out of store marketing, a dynamic and multifaceted approach, is the driving force behind connecting with today's consumers beyond the traditional confines of brick-and-mortar establishments. In a world inundated with products, services, and advertisements, businesses are constantly seeking innovative strategies to stand out, engage their target audiences, and create meaningful brand associations.This marketing approach extends beyond the traditional brick-and-mortar store or online marketplace, allowing businesses to connect with consumers in novel and captivating ways.
Out of Store Marketing offers a Compelling Solution
It helps in transcending the limitations of Physical Stores and deep-diving headfirst into the realms of Experiential Engagement & Creative Advertising. This approach opens the door to a plethora of opportunities for brands to craft memorable experiences, foster genuine connections, and drive their marketing objectives. From captivating street art to virtual reality experiences, from impactful sponsorships to influencer collaborations, this Out of Store Marketing Guide covers all. It delves into the expansive universe of Out of Store marketing, unveiling its importance, nuances, and the boundless potential it holds for brands in the ever-evolving landscape of modern marketing.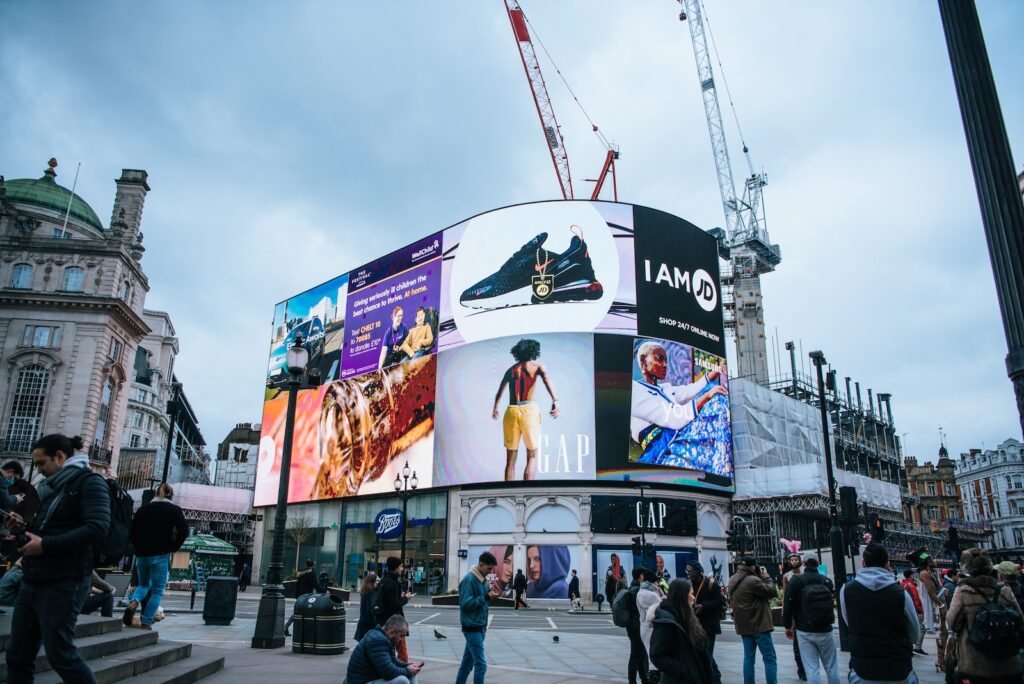 Understanding Out of Store Marketing
Out of Store marketing is a dynamic and multifaceted strategy that transcends the boundaries of physical stores or e-commerce platforms. It encompasses a broad spectrum of initiatives designed to connect with customers wherever they may be. This can include everything from billboards and bus advertisements to guerrilla marketing, experiential marketing, social media campaigns, and more.
1. The Power of Brand Recognition Via Out of Store Marketing
Brand recognition is an essential component of any successful marketing strategy. Out of Store marketing enables brands to increase their visibility and create a lasting impression on potential customers. By strategically placing advertisements in high-traffic areas, companies can ensure that their logos, slogans, and imagery become etched in the minds of passersby. This constant exposure can make consumers more likely to consider a particular brand when making purchasing decisions.
Example: "Share a Coke" Campaign: In 2014, Coca-Cola launched its "Share a Coke" campaign in the United States, a marketing initiative that aimed to connect with consumers on a personal level while reinforcing the brand's recognition and customer engagement. The "Share a Coke" campaign led to a significant increase in sales, had a lasting impact on the brand, with Coca-Cola continuing to release personalized bottles and cans in subsequent years, maintaining the tradition of personalization.
2. Billboards: A Timeless Medium
One of the most iconic forms of Out of Store marketing is the billboard. Billboards have been a staple of the advertising landscape for decades, and for good reason. These towering structures strategically placed along highways, city streets, and other high-traffic areas provide an unmissable canvas for businesses to communicate their message. With creative and eye-catching designs, billboards have the power to captivate and linger in the memories of those who see them.
Example: Coca-Cola's Classic Billboards. Coca-Cola's iconic red and white billboards have graced cityscapes around the world for over a century. Their simple yet powerful design features the Coca-Cola logo and imagery, instantly evoking the refreshing and classic appeal of the brand. These billboards not only reinforce the brand's presence but also elicit feelings of nostalgia and comfort associated with their product.
3. Bus Advertisements: Mobile Billboards
Buses crisscross urban and suburban areas, offering a unique opportunity for Out of Store marketing. Companies can transform buses into mobile billboards, covering them with vibrant graphics, slogans, and information about their products or services. As buses move through city streets and neighborhoods, they expose a brand's message to a diverse and widespread audience, effectively increasing brand visibility.
Guerrilla Marketing: Thinking Outside the Box. Guerrilla marketing is all about thinking outside the box and creating memorable, unconventional campaigns that engage consumers in unexpected ways. This approach often involves surprise and delight tactics, using unconventional spaces and unconventional methods. It's about creating memorable experiences that can generate buzz and word-of-mouth marketing. For example, a flash mob in a public square or a striking art installation in a public space can be ways to engage audiences in a unique and memorable manner.
4. Experiential Marketing: Immersing the Audience
Experiential marketing takes the Out of Store approach a step further by creating immersive brand experiences. This strategy involves hosting events, pop-up shops, and interactive installations to let consumers engage with a product or service directly. By offering a tangible, multisensory experience, brands can forge deeper connections and build loyalty with their audience.
Example: IKEA's Pop-Up Sleepover. IKEA, the Swedish furniture retailer, organized a unique pop-up experience in Australia where customers could spend a night inside one of their showrooms. It provided an immersive way for customers to experience IKEA's furniture and home décor offerings. This memorable sleepover event showcased the brand's commitment to comfort and home living and generated extensive media coverage.
5. Social Media Campaigns: The Digital Out of Store Marketing
In our digital age, social media platforms have become a significant arena for Out of Store marketing. Companies can leverage the vast reach and targeting capabilities of platforms like Facebook, Instagram, and Twitter to engage with consumers who may never set foot in a physical store. With compelling content, eye-catching visuals, and interactive engagement, brands can extend their presence and connect with a global audience.
Example: Oreo's Daily Twist Campaign: Oreo, the iconic cookie brand, launched the "Daily Twist" campaign on social media, celebrating the cookie's 100th birthday. Each day for 100 days, Oreo posted a unique image featuring the cookie in a creative and relevant context, capitalizing on current events and pop culture. The campaign generated widespread engagement, showcasing the brand's versatility and sense of humor.
6. Street Art and Murals: Urban Artistry
Street art and murals have gained popularity as a means of Out of Store marketing, especially in urban environments. Brands can collaborate with local artists to create captivating artworks that align with their messaging and values.
Example: Converse's "Wall to Wall" Campaign. Converse, a renowned sneaker brand, launched the "Wall to Wall" campaign, where they commissioned artists to paint vibrant murals on the sides of buildings in various cities. These murals celebrated artistic expression and individuality, resonating with Converse's brand ethos of self-expression and creativity.
7. Ambient Advertising: Subtle Out of Store Marketing
Ambient advertising involves placing branded elements in unconventional locations, often blending seamlessly with the surroundings to surprise and engage viewers.
Example: 3M's "Security Glass" Billboard. 3M executed a brilliant ambient advertising campaign to promote their security glass. They installed a seemingly ordinary billboard on a city street that gradually revealed its effectiveness over time. As it withstood various attempts at breaking in, the message, "3M Security Glass" became increasingly impactful, showcasing the product's durability and safety features.
8. Pop-Up Shops: Immersive Retail Experiences
Pop-up shops have become a popular Out of Store marketing strategy, allowing brands to create temporary retail spaces in high-traffic areas or unique locations.
Example: Kylie Jenner's Kylie Cosmetics Pop-Up. Kylie Jenner's cosmetics brand, Kylie Cosmetics, gained tremendous attention through its pop-up shops in various cities. These temporary retail locations allowed customers to interact with the products, meet with the brand's team, and experience the glamour associated with the brand. The exclusivity of these pop-ups generated long lines and extensive social media buzz.
9. Event Sponsorship: Aligning with Passion Points
Event sponsorship is a powerful way to engage with target audiences who are passionate about a particular interest or activity, and it can extend a brand's reach beyond traditional marketing channels.
Example: Red Bull's Sponsorship of Extreme Sports Events. Red Bull's association with extreme sports events, such as the X Games and Red Bull Stratos (Felix Baumgartner's space jump), not only aligned with the brand's image but also put it in front of a global audience of thrill-seekers. This sponsorship allowed Red Bull to establish a strong connection with a community that values energy, adventure, and pushing the limits.
10. Viral Marketing: Harnessing Social Sharing
Viral marketing is a unique form of Out of Store marketing that relies on creating shareable content that spreads rapidly through social media channels.
Example: ALS Association's Ice Bucket Challenge. The ALS Association's Ice Bucket Challenge became a viral sensation in 2014. The challenge involved people dumping buckets of ice water over their heads to raise awareness and funds for amyotrophic lateral sclerosis (ALS). This campaign demonstrated the potential of harnessing user-generated content and social sharing to promote a cause, resulting in millions of dollars in donations and substantial awareness.
11. Public Art Installations: Art as a Medium
Public art installations can serve as captivating Out of Store marketing tools, engaging passersby and creating memorable brand associations.
Example: Prada Marfa Installation. Prada Marfa, a permanent art installation located in the Texas desert, showcases luxury fashion in an unexpected and isolated setting. Though it's not a functioning store, it sparks curiosity and conversation, effectively promoting Prada's brand as a symbol of high fashion and exclusivity.
12. Product Placement: Seamless Integration
Product placement involves subtly featuring a brand's products in movies, TV shows, or other forms of entertainment. This Out of Store marketing approach seamlessly integrates the brand's offerings into the storyline.
Example: Apple's Frequent Product Placement. Apple is renowned for its strategic product placements in movies and TV shows. You'll often see characters using iPhones, MacBooks, or other Apple devices, reinforcing the brand's modern and high-quality image. This form of marketing capitalizes on the exposure generated by popular entertainment media.
13. Environmental Marketing: Green Initiatives
Environmental marketing involves supporting and promoting eco-friendly initiatives and sustainability efforts. It showcases a brand's commitment to environmental responsibility.
Example: The Body Shop's Bio-Bridges Program. The Body Shop, a global cosmetics brand, launched the Bio-Bridges program, which focuses on rewilding and protecting endangered animal and plant species and their habitats. The brand's stores feature information about the program, and a portion of sales from certain products goes toward funding these conservation efforts. This out of store marketing strategy aligns with consumers who prioritize eco-conscious brands.
14. In-Game Advertising: Reaching Gamers
In-game advertising allows brands to reach a vast and engaged audience within video games. Advertisements can be seamlessly integrated into the gaming experience.
Example: Red Bull's In-Game Integration. Red Bull extends its brand into the gaming world by sponsoring esports events and integrating its branding into popular games like Fortnite and Formula 1 racing simulators. This strategy resonates with gamers, who often share a passion for energy drinks and high-adrenaline activities.
15. Mobile Marketing: Targeting On-the-Go Consumers
Mobile marketing leverages the ubiquity of smartphones to reach consumers with location-based ads, mobile apps, and text messaging campaigns.
Example: Starbucks' Mobile App Loyalty Program Starbucks' mobile app is a prime example of out of store marketing through mobile technology. The app not only allows customers to place orders for pickup but also offers a loyalty program, personalized offers, and mobile payment options. Starbucks effectively engages customers even when they are not in a physical store, nurturing brand loyalty and driving sales.
16. Airport Advertising: A Global Reach
Airports are prime locations for out of store marketing, as they provide access to a diverse and global Audience of Travelers.
Example: Dubai Duty-Free's Luxury Brand Promotions. Dubai Duty-Free, one of the world's largest airport retailers, collaborates with luxury brands like Chanel, Gucci, and Rolex to create exclusive airport shopping experiences. They strategically place eye-catching displays and promotions in duty-free shops, enticing travelers to indulge in high-end purchases while in transit.
17. Ride-Sharing Promotions: Capitalizing on Commutes
Ride-sharing companies offer a unique space for out of store marketing. Brands can partner with ride-sharing services to reach consumers during their daily commutes.
Example: Uber's In-Car Advertising. Uber launched an in-car advertising platform, allowing brands to promote their products or services to riders during their journeys. Uber drivers can earn additional income by displaying advertisements in their vehicles, providing exposure to passengers.
18. Smart Wearables and IoT Devices: The Digital Frontier
Smart wearables and Internet of Things (IoT) devices offer innovative opportunities for out of store marketing by delivering personalized and context-aware content.
Example: Fitbit's Health and Fitness Tracking. Fitbit, a leader in wearable fitness trackers, engages users with personalized health and fitness insights. It connects with consumers outside the store by delivering real-time activity data and motivating notifications, promoting a healthy and active lifestyle that aligns with the brand's mission.
19. Event Marketing: Immersive Experiences
Event marketing involves creating or participating in events that align with a brand's values and objectives. These events offer opportunities for in-person engagement with consumers.
Example: Red Bull's Stratos Space Jump Event. Red Bull's "Stratos" event, which featured Felix Baumgartner's historic space jump from the stratosphere, was not just a marketing spectacle but a significant cultural event. Millions of people around the world tuned in to watch the live stream and engage with the brand. The event's impact extended far beyond traditional advertising.
20. Influencer Collaborations: Leveraging Online Reach
Influencer marketing is a form of out of store marketing that involves partnering with social media influencers who have a substantial following. Influencers can authentically promote products or experiences, reaching audiences outside of conventional retail spaces.
Example: Daniel Wellington's Collaboration with Influencers. Daniel Wellington, a watch brand, is known for its influencer marketing campaigns. They collaborate with fashion and lifestyle influencers who showcase the watches in their social media posts. This strategy capitalizes on the influencers' credibility and reach, extending the brand's presence to their followers.
21. Public Transport Advertising: A Captive Audience
Public transportation systems, such as buses, subways, and trains, offer captive audiences for advertisers. Brands can leverage the time commuters spend in transit to convey their messages.
Example: London's "Art on the Underground". "Art on the Underground" is a project that commissions contemporary artists to create public art installations within London's subway system. It not only beautifies the urban environment but also provides opportunities for brands to support and collaborate on these installations, enhancing their public image.
22. Destination Marketing: Tourism and Beyond
Destination marketing involves promoting a specific location or experience to attract visitors. This approach can benefit businesses, hotels, and local communities.
Example: Iceland's "Inspired by Iceland" Campaign. Iceland's "Inspired by Iceland" campaign sought to attract tourists by showcasing the country's natural beauty and unique culture. The campaign included a series of videos and interactive experiences, inviting potential travelers to explore and engage with the destination.
23. Social Cause Campaigns: Building Empathy
Out of Store marketing can also serve noble causes and social initiatives, allowing brands to showcase their commitment to making a positive impact on society.
Example: P&G's "Thank You, Mom" Campaign. Procter & Gamble (P&G) launched the "Thank You, Mom" campaign during the Olympics to celebrate the unwavering support of mothers in athletes' lives. The campaign involved emotional storytelling through video ads and engaged audiences worldwide. While not directly promoting products, the campaign associated P&G with heartfelt moments and family values.
24. Street Performances and Busking: Spontaneous Engagement
Street performances and busking are unconventional Out of Store marketing tactics that can create memorable moments and resonate with passersby.
Example: T-Mobile's "Flash Mob" Campaign. T-Mobile organized a flash mob in Liverpool Street Station in London. A seemingly spontaneous dance performance broke out, captivating commuters and passersby. This lively and entertaining experience generated buzz and was widely shared on social media, highlighting T-Mobile's "Life's for Sharing" slogan.
25. Food Truck Marketing: Tasty Branding
Food trucks offer a mobile platform for businesses to engage with customers through unique culinary experiences, creating a strong association between the food and the brand.
Example: Taco Bell's "Demolition Man" Pop-Up. Taco Bell created a pop-up restaurant inspired by the futuristic setting of the movie "Demolition Man." This pop-up allowed fans to taste menu items featured in the film and promoted the brand's fun and innovative spirit. The event generated significant attention and social media coverage.
26. Experiential Art Installations: Engaging the Senses
Experiential art installations are designed to immerse viewers in a multisensory experience, often incorporating technology and interactive elements.
Example: Meow Wolf's Immersive Art Exhibits Meow Wolf, an arts and entertainment company, creates immersive art installations that transport visitors to fantastical and surreal worlds. These installations offer a unique and unforgettable experience, providing a platform for brands to collaborate and engage with visitors in a truly immersive way.
27. Vehicle Wraps and Branding: Mobile Advertisements
Vehicle wraps and branding involve covering vehicles, such as cars, trucks, and bikes, with customized graphics and branding materials to promote a product or service.
Example: Red Bull's "Gives You Wings" Mini Cooper Red Bull frequently partners with brands like Mini Cooper to create eye-catching, branded vehicles. These unique cars grab the attention of pedestrians and drivers alike, reinforcing Red Bull's high-energy and adventurous image as they cruise through city streets.
28. Outdoor Sports and Adventure Marketing: Embracing Enthusiasts
Outdoor sports and adventure marketing connects with a passionate audience of sports and adventure enthusiasts, promoting products and experiences that resonate with this demographic.
Example: The North Face's "Never Stop Exploring" Campaign. The North Face's "Never Stop Exploring" campaign emphasizes outdoor exploration and adventure. The brand sponsors various outdoor events and initiatives, such as mountain climbing expeditions and trail races, aligning with their customers' active lifestyles and passion for the outdoors.
29. Beach and Resort Advertising: Relaxation and Leisure
Beach and resort destinations offer unique opportunities for Out of Store marketing, allowing brands to connect with consumers seeking relaxation and leisure.
Example: Coca-Cola's Beachfront Advertising. Coca-Cola often utilizes beachfront advertising during the summer months, capitalizing on beachgoers' desire for refreshment and enjoyment. Branded beach umbrellas, sand sculptures, and even lifeguard stations can create a strong association with leisure and happiness.
30. Music and Festival Sponsorship: Connecting Through Music
Sponsoring music festivals and concerts allows brands to reach a large and engaged audience that shares a passion for music and live events.
Example: Budweiser's Sponsorship of Music Festivals. Budweiser is a prominent sponsor of music festivals like the Budweiser Made in America Festival. The brand's presence at these events includes branded stages, exclusive beer gardens, and music-themed promotions, connecting with festivalgoers who are enthusiastic about music and entertainment.
31. Sporting Event Activation: Engaging Sports Fans
Sporting event activation involves creating memorable brand experiences at sporting events to engage passionate sports fans.
Example: Nike's "Nike Run Club" at Marathons Nike's "Nike Run Club" often hosts running events and activations at major marathons around the world. These events provide runners with an opportunity to engage with the brand, receive professional guidance, and test Nike's running gear, effectively connecting with a community of athletes and fitness enthusiasts.
32. Environmental Branding: Creating Branded Spaces
Environmental branding extends beyond traditional advertising by transforming physical spaces, such as offices, retail stores, and public places, into immersive brand experiences.
Example: Google's Campus Environment. Google's campuses and offices worldwide feature unique and creative spaces that reflect the company's innovative culture. These environments not only engage employees but also create a powerful image of Google as a cutting-edge tech company.
Impact on Businesses
The impact of Out of Store marketing on businesses can be substantial. Not only does it boost brand recognition and visibility, but it also provides several other benefits:
Increased Engagement: Out of Store marketing encourages customers to actively engage with a brand, often through interactive experiences or memorable visuals. This interaction can lead to stronger emotional connections and customer loyalty.
Cost-Effective Reach: Compared to traditional advertising methods, Out of Store marketing can offer excellent return on investment. Billboards, bus advertisements, and guerrilla marketing initiatives are often more cost-effective than TV or radio advertising, making them attractive options for businesses with limited marketing budgets.
Enhancing Customer Experience: Experiential marketing, in particular, enhances the customer experience by providing memorable moments and personalized interactions. This can lead to positive word-of-mouth and online reviews, which further bolster a brand's reputation.
Adapting to Changing Consumer Behavior: As consumers increasingly seek unique and meaningful experiences, Out of Store marketing allows businesses to adapt to evolving consumer preferences. It offers an avenue to connect with an audience that craves authenticity and engagement.
Future Trends in Out of Store Marketing
Out of Store marketing is an ever-evolving field, influenced by technological advancements, changing consumer behaviors, and societal trends. As we look to the future, several trends are poised to reshape the landscape:
Augmented Reality (AR) and Virtual Reality (VR): AR and VR technologies are opening up new possibilities for Out of Store marketing. Brands can create immersive virtual experiences that allow consumers to interact with products and services in a digital environment.
Location-Based Marketing: With the rise of GPS-enabled devices, location-based marketing will continue to grow. Brands can target consumers based on their real-time location, sending personalized offers and messages when they are near a store or a specific point of interest.
Sustainability and Social Responsibility: Consumers are increasingly conscious of environmental and social issues. Brands that incorporate sustainability and social responsibility into their Out of Store marketing strategies can resonate with these values, building a loyal and ethical customer base.
Data-Driven Insights: Big data and analytics will play a crucial role in the future of Out of Store marketing. Companies will use data to refine their strategies, understand consumer behavior, and tailor their campaigns for maximum impact.
Conclusion : Out of Store Marketing
In conclusion, Out of Store marketing has emerged as a powerful and versatile strategy that transcends the boundaries of traditional marketing paradigms. This dynamic approach enables brands to connect with consumers in innovative and meaningful ways, leaving a lasting impact and fostering brand recognition. Throughout this article, we have explored the vast spectrum of Out of Store marketing, from experiential events and guerrilla marketing to influencer partnerships and eco-friendly initiatives. Each of these diverse tactics exemplifies the adaptability and creativity that Out of Store marketing offers, allowing brands to engage with their target audiences on a personal, emotional, and often immersive level.
The use cases and examples we've discussed underscore the ability of Out of Store marketing to create unforgettable experiences, reinforce brand values, and stimulate consumer interactions. Whether through the creation of interactive installations, street art, pop-up events, or gamified experiences, Out of Store marketing transcends traditional advertising by forging authentic connections between brands and their audiences.
As the marketing landscape continues to evolve, the power of Out of Store marketing remains ever-relevant. Brands that leverage these strategies effectively can leave an indelible mark on their consumers' minds and hearts, ultimately driving brand loyalty, fostering trust, and achieving their marketing objectives. In an era where consumers seek more than just products or services, Out of Store marketing paves the way for immersive, engaging, and authentic brand experiences that resonate and endure. It is a testament to the boundless creativity of marketers and the limitless possibilities that exist beyond the confines of physical storefronts.
You May Also Like