Starbucks Corporation is an American multinational chain of coffeehouses and Roastery reserves headquartered in Seattle, Washington. It is the world's largest coffeehouse chain. As of November 2021, the company had 33,833 stores in 80 countries, 15,444 of which were located in the United States. Out of Starbucks' U.S.-based stores, over 8,900 are company-operated, while the remainder are licensed.
In 2021–2022, votes to join Starbucks unions were successful at multiple Starbucks locations, including in cities such as Seattle, Buffalo, Rochester, Ithaca, Kansas City and Manhattan.The rise of the second wave of coffee culture is generally attributed to Starbucks, which introduced a wider variety of coffee experiences.
How Starbuck Became a Multi Billion Dollar Business
Based on this CNBC Story, Under the careful watch of Howard Schultz, Starbucks pursued a strategy of aggressive expansion in the late '80s and early '90s. By the time the company went public in 1992, it had 165 stores. Four years later, Starbucks opened its 1,000th location, including international cafes in Japan and Singapore. Growth was so rapid that, just two years later, Starbucks opened its 2,000th cafe.
Hits and Misses & Current Challenges of Starbucks
In its 47-year history, Starbucks has transformed from a single coffee bean store in Seattle to a 30,000 cafe international coffee power house. But massive expansion hasn't come without growing pains. It's no secret that Starbucks has been struggling to get U.S. customers to frequent its cafes more often.
While sales have been positive, the number of customer visits continues to stagnate. Same-store sales, a key metric in the restaurant industry, have dwindled over the last 12 months as competition heated up and customers were uninspired by some of Starbucks' limited-time offerings. While comparable-store sales exceeded expectations in the fourth quarter that ended Sept. 30, rising 4 percent, much of that was due Starbucks charging more for its lattes.
While unit expansion helped boost sales throughout the last two decades — Starbucks has had positive same-store sales growth since 2010 — the company has now spread itself too thin. With more than 14,000 locations in the United States alone today, Starbucks has cannibalized its own sales.
The company is regrouping and rethinking its expansion. It is expected to shutter 150 underperforming locations in 2019, three times the amount it typically does. Compounding its problems are changing consumer preferences, an issue CEO Kevin Johnson has addressed with investors.
People are shying away from sugar-laden calorie bombs, which happen to be one of Starbucks' staples. In 2015, sales of Frappuccinos were 14 percent of Starbucks revenue. However, in the first half of 2018, Frappucino sales were down 3 percent — and accounted for only about 11 percent of the company's revenue.
The Economics of Starbucks : How Starbucks Operates Like a Bank While Serving Coffee
The Revenue Growth of Starbucks from 2003 to 2021 in Billion U.S. Dollar
Starbucks' net revenue reached 24.61 billion U.S. dollars in 2021, reflecting an increase over the previous year's total of 19.61.
The global coffeehouse chain has seen a year-over-year increase in revenue for the past decade, except for the decline in 2020 which could be attributed to the stay-at-home measure implemented due to the coronavirus (COVID-19) pandemic.
Net Revenue of Starbucks worldwide from 2003 to 2021 in Billion U.S. Dollar (Based on Statista Report)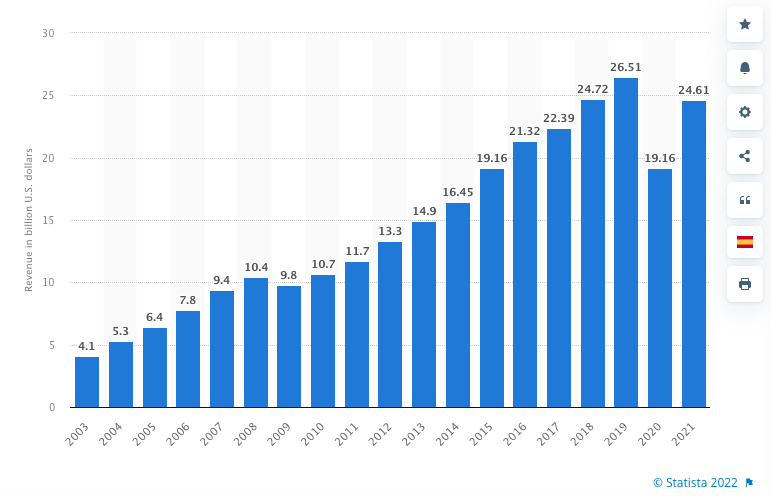 Number of Starbucks Stores
In recent years, Starbucks has expanded exponentially, more than doubling its units over the past 10 years. The number of Starbucks stores worldwide exceeded 33 thousand in 2021. This figure also included other segments owned by the coffee-chain such as Siren Retail and Teavana.
In that year, Starbucks had the most stores outside of its home country. Countries the company has expanded to include Germany, Indonesia, and the United Arab Emirates. Starbucks units have grown almost every year over the past decade. The only drop was in 2009, most likely due to the global financial crisis.
Most Popular Starbucks Products
Starbucks serves hot and cold drinks, whole-bean coffee, micro-ground instant coffee, espresso, caffe latte, full and loose-leaf teas, juices, Frappuccino beverages, pastries, and snacks. Some offerings are seasonal, or specific to the locality of the store. Depending on the country, most locations provide free Wi-Fi internet access.
While Starbucks is primarily a coffeehouse chain it also offers consumers a variety of other products. These include beverages such as teas, hot chocolates, smoothies and iced drinks, and a selection of food products.
Perhaps unsurprisingly, the Starbucks revenue breakdown showed that the sale of beverages has been the number one source of revenue for the chain over the last decade. Meanwhile, food sales have also been a large contributor to Starbucks' revenue in recent years.
View, Read and Learn More Here: