In the realm of Entrepreneurship for Public Good, it may seem unconventional to turn to creatures of the wild as our teachers. However, these seemingly ordinary animals – squirrels, butterflies, birds, dogs, and even lions – possess remarkable qualities that hold the power to Revolutionise our perception of entrepreneurship and its potential for creating a positive impact on society. These creatures all have unique qualities that can inspire us to think differently about entrepreneurship and how we can use it for the public good.
Consider the industrious squirrel, scurrying about with unwavering determination. Their tireless efforts to gather and store food for the future teach us the importance of long-term planning and resourcefulness. In the world of public service entrepreneurship, this translates to envisioning sustainable solutions and utilising available resources effectively to address societal needs.
Look closely at the delicate butterfly, gracefully gliding through the air. Their ability to undergo a transformative metamorphosis teaches us about adaptability and embracing change. Public service entrepreneurs can learn from this lesson by embracing innovation and adapting their strategies to meet evolving challenges, ultimately creating meaningful and lasting change.
Take to the skies with the agile birds, soaring through the clouds in harmonious formations. Their synchronized flight demonstrates the power of collaboration and teamwork. Similarly, in public service entrepreneurship, partnerships and collaborations become catalysts for collective action, enabling a greater impact on societal issues.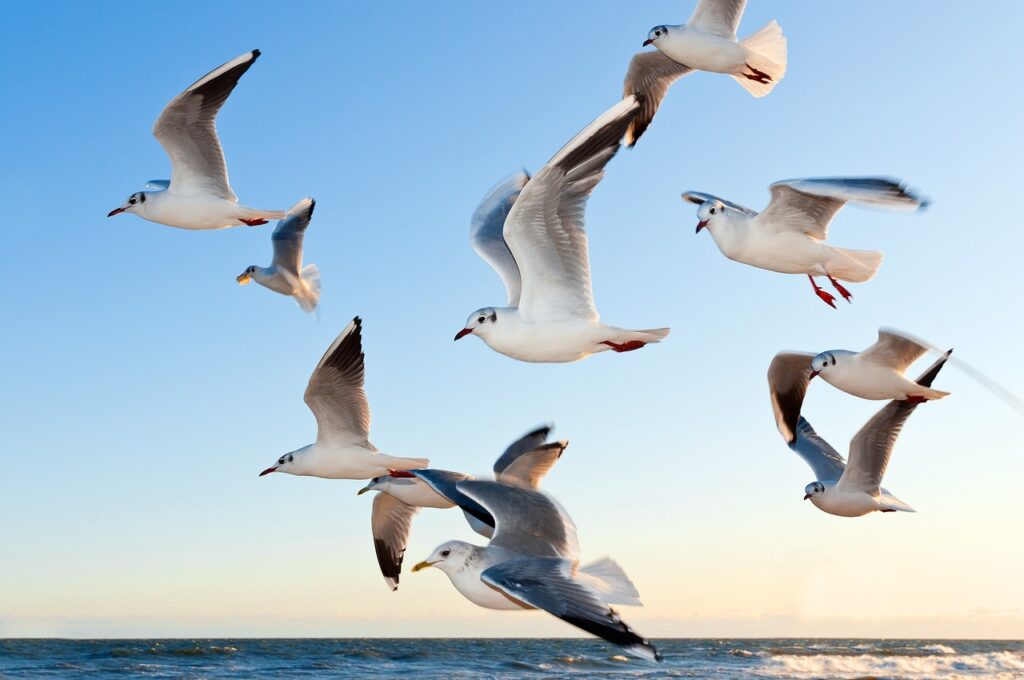 Pause for a moment with our loyal companions, the dogs, who embody loyalty, companionship, and unwavering devotion. They remind us of the importance of building strong relationships and trust within our communities. Public service entrepreneurs can draw inspiration from this bond and strive to foster inclusive, supportive environments that engage and empower individuals from all walks of life.
Now, turn your attention to the mighty lion, the regal king of the savannah. With their commanding presence and strategic prowess, they exemplify leadership and resilience. Lions guide their pride through adversity, adapt to changing circumstances, and protect their community. Lions teach us valuable lessons about entrepreneurship for public good.
Here are some key insights we can derive from the Individual behaviour of the Squirrels, Butterflies, Birds, Dogs and Lions and how can they help us navigate the realm of Entrepreneurship for Collective Good :
Leadership

Lions exhibit strong leadership qualities within their pride. They establish clear roles and responsibilities, ensuring the well-being and success of the group. In entrepreneurship, effective leadership is essential for driving positive change and aligning a team towards a common goal in the pursuit of public good. Similarly
Squirrels demonstrate leadership through their ability to plan and strategize. They gather and store food for the future, showcasing a forward-thinking mindset. Their meticulous approach teaches us the importance of setting goals, developing a clear vision, and planning for the long term. Squirrel-inspired leadership emphasises the value of organisation, preparedness, and the ability to navigate through challenges with a well-thought-out strategy.
Butterflies exemplify transformational leadership. They undergo a remarkable metamorphosis, symbolizing growth and adaptation. As leaders, butterflies inspire others to embrace change and pursue personal growth. They encourage their followers to break free from limitations, embrace new possibilities, and undergo their own transformative journeys. Butterfly-inspired leadership focuses on fostering a culture of continuous learning, innovation, and embracing change as a catalyst for personal and organizational evolution.
Birds exhibit leadership through their remarkable coordination and teamwork in flight formations. They communicate, synchronize their movements, and collaborate to achieve common goals. Bird-inspired leadership emphasizes the importance of effective communication, collaboration, and shared purpose. Leaders who emulate bird-like qualities inspire their teams to work together harmoniously, leverage collective strengths, and achieve exceptional results through collaboration.
Dogs exemplify loyal and compassionate leadership. They are known for their unwavering loyalty and unconditional love towards their human companions. Dog-inspired leadership centers around building strong relationships, trust, and empathy. Leaders who emulate dog-like qualities prioritize the well-being of their team members, foster a supportive and inclusive work environment, and cultivate a sense of belonging and camaraderie.

Collaboration and Teamwork

Lions are highly social animals that work together in coordinated efforts to hunt, defend their territory, and raise their young.

Lions live in prides, social groups consisting of related females, their offspring, and a few resident males. Lions demonstrate the importance of social structures and collaboration within a group. Each member of the pride has a role and contributes to the overall well-being and success of the group. Lions teach us that collaboration starts with establishing a strong foundation and defining roles and responsibilities.
Hunting Strategies: Lions are renowned for their cooperative hunting strategies. They work together in coordinated efforts to bring down larger prey. Lions showcase the power of teamwork, as they rely on each other's strengths and complement one another's skills. Lions teach us the significance of combining individual talents and working towards a common goal.
Territory Defense: Lions collaborate to defend their territory from intruders. They form alliances and work collectively to protect their pride and resources. Lions demonstrate the power of unity and cooperation in safeguarding shared interests. They teach us that collaboration is not limited to achieving goals but also extends to protecting and preserving what is important to us.
Parental Care: Lions exhibit teamwork in raising their young. Females within the pride share nursing and caregiving duties, allowing for efficient allocation of resources and ensuring the survival of the cubs. Lions teach us the importance of shared responsibilities and supporting one another in nurturing future generations.

Squirrels showcase collaboration through their communal nesting behaviour. They work together to build and maintain nests, sharing responsibilities and resources. Squirrels teach us the importance of cooperation and division of labor. They demonstrate that by pooling our skills and resources, we can achieve more collectively than we could individually. Squirrel-inspired collaboration encourages individuals to recognise their unique strengths and contribute to a shared goal, fostering a sense of unity and productivity to achieve desired social outcome.
Butterflies: Butterflies provide insights into collective effort and teamwork through their migratory patterns. During long-distance migrations, butterflies travel in groups, flying together in a synchronized manner. This showcases the power of alignment and coordination. Butterfly-inspired teamwork emphasizes the value of clear communication, synchronization, and collective action. Leaders can learn from butterflies to foster an environment where individuals collaborate effectively, align their efforts, and work towards a shared vision.
Birds: Birds are renowned for their exceptional teamwork in activities such as hunting, flocking, and nesting. They communicate and coordinate their movements to achieve common objectives. Bird-inspired teamwork emphasizes effective communication, trust, and interdependence. Birds teach us the importance of active listening, clear communication, and trust-building within teams. They highlight the need to leverage individual strengths and contributions to create synergy and accomplish shared goals.
Dogs: Dogs exemplify teamwork through their pack mentality. They have a strong sense of loyalty and cooperation within their social groups. Dogs teach us the value of unity, support, and collaboration. They highlight the significance of trust-building, mutual reliance, and shared accountability. Dog-inspired teamwork promotes a culture of support, encouragement, and collective responsibility. Leaders can draw inspiration from dogs to foster a collaborative environment where team members feel valued, empowered, and encouraged to contribute their best. By fostering a collaborative environment, entrepreneurs can leverage diverse skills and perspectives to tackle complex social challenges more effectively.

Strategic Planning:

Lions employ strategic planning when hunting prey. They analyze their environment, choose the right moment to strike, and allocate tasks accordingly. Likewise, entrepreneurs focused on public good must develop strategic plans to address societal issues. This involves identifying opportunities, setting objectives, and implementing well-thought-out strategies to maximize impact.
Squirrels: Squirrels are known for their meticulous approach to gathering and storing food. They showcase the importance of strategic planning by carefully selecting food sources, assessing risks, and managing resources for future needs. Squirrels teach us the significance of foresight, goal setting, and proactive planning. They inspire us to consider long-term objectives, anticipate challenges, and develop strategies to achieve our desired outcomes.
Butterflies: Butterflies undergo a remarkable transformation from caterpillar to butterfly. This metamorphosis requires careful planning and preparation. Butterflies demonstrate the value of strategic timing and sequential development.Butterflies inspire us to embrace change, plan for transitions, and align our actions with the appropriate timing.
Birds: Birds navigate vast distances by strategically selecting optimal routes, taking advantage of favourable weather conditions, and finding suitable stopover locations. Birds teach us the importance of strategic decision-making, risk assessment, and resource optimization. They encourage us to assess external factors, seize opportunities, and make informed choices to maximize our chances of success.
Dogs: Dogs showcase strategic planning through their ability to anticipate and respond to situations. They possess keen senses and can assess their environment to make calculated decisions. Dogs teach us the value of observation, adaptability, and agility in strategic planning. They remind us to gather information, analyze data, and adjust our plans as circumstances evolve. Dog-inspired strategic planning emphasizes the need to stay alert, remain flexible, and pivot when necessary.

Adaptability:

Lions adapt to changing circumstances in their habitat, such as shifts in prey availability or environmental conditions. Similarly, entrepreneurs for public good must be adaptable in the face of evolving social, economic, and environmental challenges. They should be open to new ideas, adjust their approaches, and pivot their strategies when necessary to remain effective and relevant.
Squirrels: Squirrels demonstrate adaptability through their ability to thrive in various environments. They can adjust their behaviour and habitat preferences based on the availability of food and shelter. Squirrels teach us the importance of being flexible and open to change. They inspire us to embrace new circumstances, adjust our strategies, and explore alternative approaches when faced with challenges or changing conditions.
Butterflies: Butterflies undergo a remarkable metamorphosis, transforming from caterpillars to beautiful winged creatures. This process symbolizes adaptability and the ability to embrace change. Butterflies teach us that adaptation often requires leaving our comfort zones and undergoing transformative experiences. They inspire us to let go of old patterns, beliefs, and behaviors and embrace new possibilities for personal and professional growth.
Birds: Birds exhibit remarkable adaptability in their ability to navigate diverse habitats and climates. They can adjust their migration patterns, nesting locations, and feeding behaviors based on changing environmental conditions. Birds teach us the importance of resilience and the ability to adjust to different circumstances. They inspire us to assess and understand our surroundings, be resourceful, and adapt our strategies to effectively meet the demands of a changing environment.
Dogs: Dogs showcase adaptability through their ability to adjust to different living situations and form bonds with various individuals. They can adapt their behaviour and responses based on the people and environments they encounter. Dogs teach us the value of being responsive and versatile. They encourage us to cultivate a mindset of openness and willingness to adapt to different situations, cultures, and relationships.

Resilience:

Lions face adversity in the wild, encountering challenges such as scarcity of food, competition from other predators, and natural disasters. They demonstrate resilience by persevering through tough times. Likewise, entrepreneurs for public good should embody resilience, as they may encounter obstacles and setbacks. The ability to bounce back, learn from failures, and persist in their mission is vital for long-term success.
Squirrels: Squirrels exhibit resilience through their ability to overcome challenges in search of food and shelter. They persistently navigate obstacles, adapt to changing conditions, and bounce back from setbacks. Squirrels teach us the importance of perseverance and determination. They inspire us to stay focused on our goals, maintain a positive mindset, and keep pushing forward despite difficulties.
Butterflies: Butterflies showcase resilience through their transformative journey. From the vulnerable stage of being a caterpillar to the eventual emergence as a beautiful butterfly, they demonstrate the power of resilience in navigating life's transitions. Butterflies teach us that resilience involves embracing change, accepting temporary discomfort, and trusting in our own ability to grow and transform.
Birds: Birds demonstrate resilience through their ability to withstand harsh environments, adverse weather conditions, and long migration journeys. They exhibit adaptability and endurance, continuing their journey despite fatigue or obstacles. Birds teach us the value of resilience in the face of adversity. They encourage us to build inner strength, find creative solutions, and persevere through challenging times.
Dogs: Dogs display resilience through their unwavering loyalty and ability to bounce back from difficult experiences. They can recover from setbacks, trauma, or changes in their environment, demonstrating their resilience in adapting to new circumstances. Dogs teach us the importance of resilience in building emotional strength, maintaining strong bonds, and recovering from setbacks with resilience and determination.

Balance of Self-interest and Collective Benefit:

Lions prioritize the well-being of their pride while also fulfilling their own needs. Similarly, entrepreneurs for public good must strike a balance between self-interest and the collective benefit of society. They should create sustainable business models that not only drive positive change but also ensure their own viability to continue making an impact.
Squirrels: Squirrels demonstrate the importance of balancing self-interest and collective benefit through their behaviour of gathering and storing food. While squirrels primarily gather food for their own survival, they also contribute to the dispersal of seeds, which benefits the ecosystem as a whole. Squirrels teach us that self-interest can align with the collective benefit when our individual actions have positive ripple effects on others.
Butterflies: Butterflies play a crucial role in pollination as they move from flower to flower, collecting nectar for their own nourishment. In the process, they inadvertently transfer pollen and contribute to the reproductive success of plants. Butterflies teach us that pursuing our own needs and desires can align with the collective benefit of ensuring the survival and diversity of plant species.
Birds: Birds exhibit a balance between self-interest and collective benefit through their flocking behaviour. While birds gather in flocks for protection, they also benefit from increased foraging efficiency and communication within the group. Birds teach us that collective cooperation can enhance individual well-being, as the shared resources and protection provided by the group ultimately benefit each member.
Dogs: Dogs exemplify the balance between self-interest and collective benefit through their loyalty and companionship. While dogs form strong bonds with their human caregivers, they also provide emotional support, security, and assistance. Dogs teach us that nurturing relationships and contributing to the well-being of others can bring both personal fulfilment and collective benefits.
These animals teach us that the balance of self-interest and collective benefit is not a zero-sum game. By pursuing our own needs and interests, we can indirectly contribute to the well-being of others and the overall ecosystem. Their examples inspire us to find ways to align our individual actions with the collective benefit, recognizing that our own self-interest can be intertwined with the greater good. By seeking a harmonious balance, we can cultivate a mindset that considers both personal goals and the well-being of the larger community.
Public service entrepreneurs can learn to lead with courage, navigate challenges with resilience, and safeguard the interests of their stakeholders. As we reflect on these extraordinary creatures, we begin to see the extraordinary potential of public service entrepreneurship. By embracing the qualities embodied by squirrels, butterflies, birds, dogs, and lions, we can unlock new pathways to harness entrepreneurship for the public good.
Each of these animal archetypes offers unique perspectives on leadership. By drawing inspiration from squirrels' planning, butterflies' transformation, birds' collaboration, and dogs' loyalty, leaders can cultivate a well-rounded approach to leadership that encompasses strategic thinking, adaptability, teamwork, and empathy. By embracing these qualities, leaders can inspire their teams, navigate challenges, and create a positive and productive work environment that leads to collective success.
You may also like: