Pinterest is an Image Sharing and Social Media service designed to enable saving and discovery of information on the internet using images, and on a smaller scale, animated GIFs and videos, in the form of Pinboards.
The site was created by Ben Silbermann, Paul Sciarra, and Evan Sharp, and had 433 million global monthly active users as of July 2022. It is operated by Pinterest, Inc., based in San Francisco.
It generated $2.5 billion revenue in 2021, a 56% increase year-on-year.79% of Pinterest revenue is generated in the US, despite only 20% of users being located in the country
Pinterest had 433 million monthly active users in Q1 2022 and over 70% of Pinterest users are women.
Learn How Pinterest Makes Money in this Video
User Growth from 2014 – 2022 based on a Report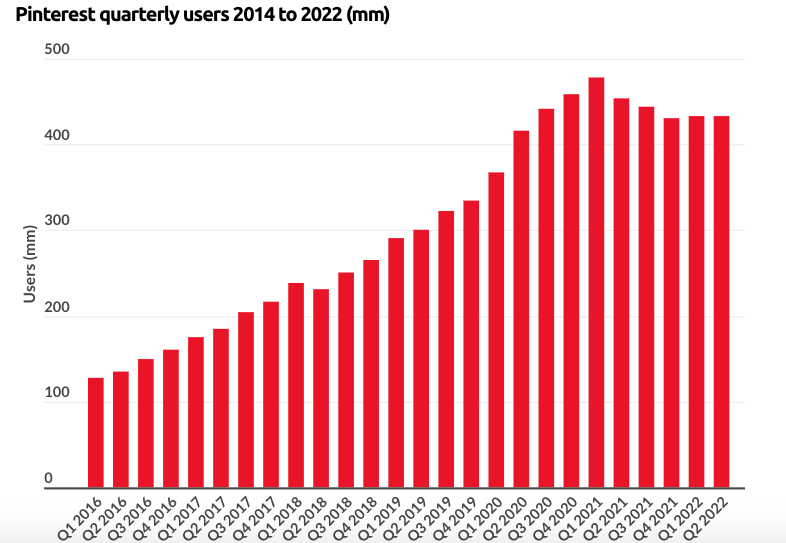 The idea for Pinterest
The idea of Pinterest emerged from an earlier app created by Ben Silberman and Paul Sciarra called Tote which served as a virtual replacement for paper catalogs. Tote struggled as a business, significantly due to difficulties with mobile payments. At the time, mobile payment technology was not sophisticated enough to enable easy on-the-go transactions, inhibiting users from making many purchases via the app.
Transition from Tote to Pinterest
Tote users were, however, amassing large collections of favourite items and sharing them with other users. The behaviour struck a chord with Silberman, and he shifted the company to building Pinterest, which allowed users to create collections of a variety of items and share them with each other.
Pinterest Development began in December 2009, and the site launched the prototype as a closed beta in March 2010. Nine months after the launch, the website had 10,000 users. Silbermann said he wrote to the first 5,000 users, offering his phone number and even meeting with some of them.
Pinterst Launch and Awards
The launch of an iPhone app in early March 2011 brought in more downloads than expected. This was followed by an iPad app and Pinterest Mobile, a version of the website for non-iPhone users. Silbermann and a few programmers operated the site out of a small apartment until the summer of 2011.Pinterest grew rapidly during this period.
It won the Best New Startup of 2011 at the TechCrunch Crunchies Awards.For January 2012, comScore reported the site had 11.7 million unique U.S. visitors, making it the fastest site ever to break through the 10 million unique visitor mark.
Pinterest Quarterly Revenue from 2014 – 2022 based on a Report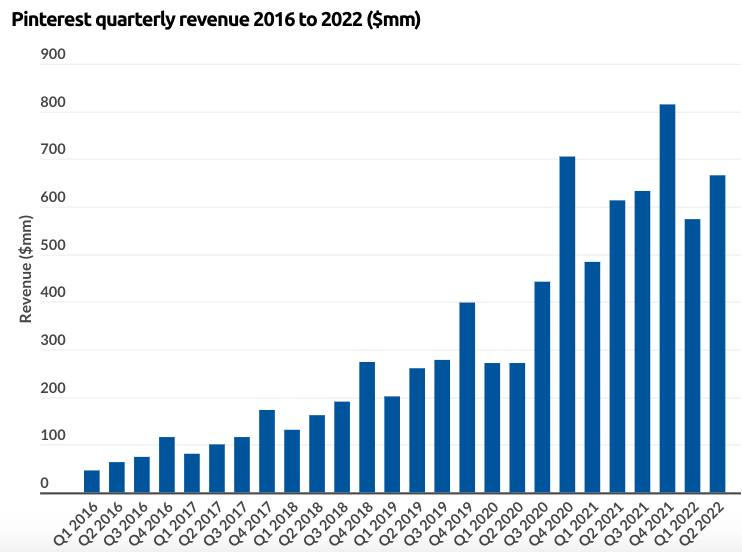 How Pinterest Makes Money based on CNBC Video above
Pinterest Users bookmark images they find online by "pinning" them to themed inspirations "boards." Pinterest makes money by targeting ads at these users, selling "promoted pins" and click-to-buy shopping ads to businesses and hundreds of retail partners.
That large user base of Pinterest is two-thirds women, and is highly valuable to advertisers. Pinterest sells targeted ads called "promoted pins" that appear at the top of users' feeds and search results.
Those ads brought in about $3 per user in 2018. It also sells click-to-buy shopping ads to businesses and hundreds of retail partners. Pinterest was growing rapidly in 2012, but that expansion was slowed by a cautious and sometimes overly passive culture at the company.
Pinterest raised $1.43 billion in its IPO after pricing the offering at $19 a share, valuing the company at $10 billion. Pinterest's revenue jumped 60% in 2018 to $756 million, and the company moved significantly closer to profitability with a net loss of $63 million.
View, Read and Learn Other Topics Here: