Pandemic had a huge impact on the independent grocery stores. One of the Main reason was the drastic change it brought in the dynamics of Consumer Purchasing Behaviour. It shifted more towards bulk buying, getting best deals and discounts, hygiene and health, e-commerce and delivery services. For this reason the big-box retailers like Walmart, Kroger, and others had more influx of customers than the Independent Grocery Stores.
Top Grocery Trends that emerged in 2021 also continue in 2022. There is much greater focus on the following aspects that govern the Grocery Trends in 2022:
Technology integration- Grocery Automation Software- Cashless Buying
E-commerce- Enabling Online Grocery Shopping with great Online Customer Experience
Increased Adoption of Social Media (Social Commerce) by Independent Contractors
Increased focus on Customer Retention by using Loyalty coupons
Hygiene and health- Clean floors and walls
Faster checkouts and Ordered Shelves and displays for Seamless consumer experience
Friendly staff with personalised customer service.
Food and Dinning – More In-Store Dinning Options
High Quality yet cost effective Pre-Packaged Food or Meals.
Fast Delivery Services
We discuss these trends below. There are 7 major grocery trends that are impacting the grocery industry in 2022 and will continue to impact over the next 3-5 Years.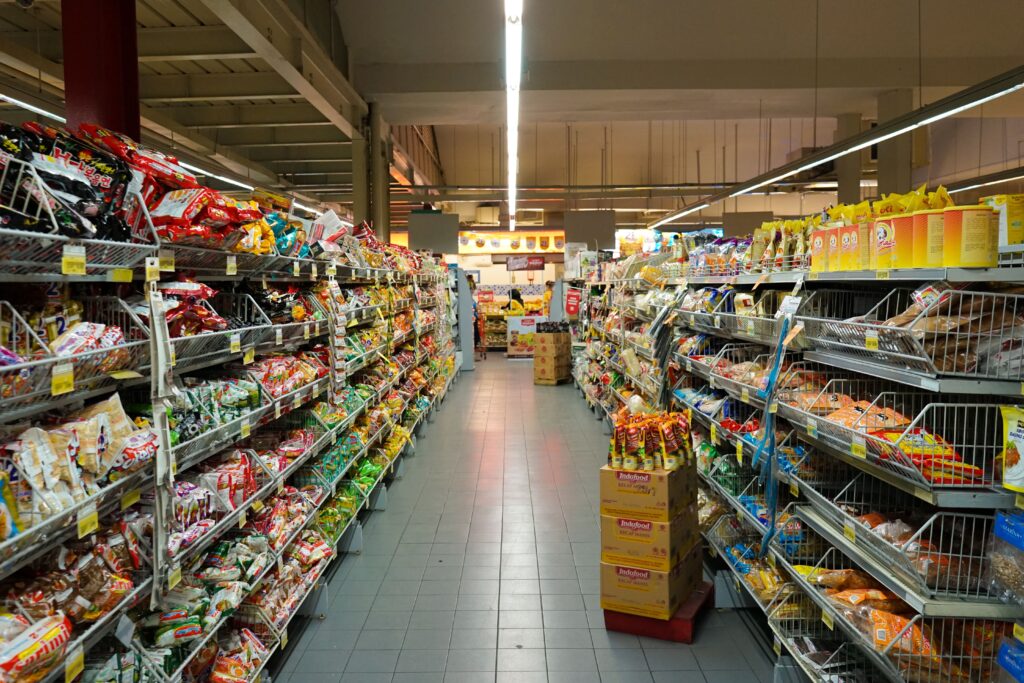 1. Increased Adoption of Technology
During and Post Pandemic, lot of Independent Grocers realised the importance of Technology and having an Online Presence. Focus shifted on cashless buying and convenience and use of customer analytics for customer retention and acquisition. Hence, the most important trend was the adoption of technology to:
Automate manual tasks
Improve Profit and manage cost efficiencies, reduce losses.
Improve Point of Sale System and Enable Cashless Buying
Enable Customer Analytics to Improve Customer Acquisition and Retention (get ahead of Competition)
Reduce human errors in Sales and Purchase
Effectively manage Out-of-Stock products and Pricing (especially TPRs and Store Price Differences)
Introduce Self Checkout Lanes (helps in managing customer traffic during peak hours)
Remain Competitive (in the era of Big-Box Retailers)
2. Shift to E-Commerce or Mobile App
Pandemic brought a level of fear inside everyone. Most relied on Cashless Purchasing to reduce human contact. Convenience and cashless purchasing gained in prominence. Many people lost jobs. People started hoarding stuff and bought stuff in bulk from supermarkets or big box retailers. As a result, pricing, discounts and deals became big drivers for people to shop from big box retailers or supermarkets. There was an opportunity loss for Independent Grocers who did not have an Online Presence or Cashless Point of Sale Systems.
Hence many independent Grocers had to adopt E-Commerce models. This propelled Independent Grocers to have an Online Presence either via Website or a Mobile App. The big box retailers also focused on improving the seamless customer experience on the different online channels including Social Media Commerce.
3. Advent of Social Commerce in Grocery Shopping
Many customers shop at Independent Grocers or a Brick and Mortar Store because of an emotional connection. This connection was developed before Social Media and E-commerce came in and changed the Retail Landscape forever. Pandemic made Retail and Grocery Landscape very competitive for Independent Grocers and Brick and Mortar Stores. Customer Acquisition was always a challenge while Customer Retention also became very tough. There are 3 categories of Customers who emerged as buyers from Supermarkets or Big Box Retailers.
Customers whose wallets hit a dent during Pandemic.
Customers who are Price Sensitive and always look for discounts and deals.
Hybrid Customers: who shop both with Big Box Retailers and Independent Grocers.
Possible causes for customer whose wallets hit a dent could be job losses or reduced savings. Hence, not to lose these Customer to Big Box Retailers, many Independent Grocers resorted to Social Media. The main reason was to keep that social or emotional connection alive.This meant selling via FACEBOOK Pages or WHATSAPP groups or others. In many developing Nations – many Independent Grocers successfully used WHATSAPP or FACEBOOK to sell products or send discount coupons to their loyal customers. This ensured that they were still thriving in a competitive deal, discount and advanced technology landscape of Big-Box Retailers.
4. Hygiene and Health
Customers are increasingly becoming cautious about health and safety standards adopted in the Big Box Retailers, supermarkets and Independent Grocers. Hence clean floors and walls, clean rest rooms, stores with disinfectants were new variables that started influencing the consumer shopping choice.
5. Self Check Out Lanes
To manage the increased Customer Traffic in the Supermarkets post lockdown, many Retailers introduced Self Check-Out Lanes. This helped in 4 ways:
Faster Checkouts for Customers
No long Queues and Reduced Human Contact
Facilitated and Encouraged Cashless Buying
It maintained good Customer Shopping Experience
6. Seamless In-Store Shopping Experience
During and post Covid people became Insecure about shopping in stores. This was due to the fear of getting infected with COVID. To address those insecurities, providing Seamless Shopping Experience to the Customers emerged as one of the main Priorities for the Supermarkets or Big Box Retailers or even Independent Grocers. This was facilitated by incorporating the following:
Organised Shelves and Displays- easy for customers to view the entire range of products
Friendly Staff that is happy to provide Personalised Customer Service.
Better management of Customer Desk by ensuring faster response to Customer Queries.
Many Retailers or Supermarkets and even Independent Grocers also introduced Grocery Delivery Services to address Customer Convenience.
7. Food and Dinning Options
During and post COVID there were mass lockdowns in the Restaurants and Hotels. This impacted the Customer Choice of Food and Dinning Options. Customers were eager to get out, grab a coffee or get a take-away from many of the Supermarkets or Retailers. Convenience was a big factor in influencing this choice. Also focus on Health Eating has emerged as a trend during COVID. Hence, many Supermarkets or Big Retailers have increased food and dinning options in-store post COVID. This includes the following:
Increased Supply of Pre-Packaged Meals to address Customer Demands of Take-Away
Increased number of Healthy Food Options in the Supermarkets
Increasing trend of having a small or separate Dinning Area within the Supermarkets. This helps in Customer Acquisition and Retention. Especially those customers who want a fast cheaper and easy efficient options of Dinning out. Supermarket Dinning enables that.
View, Read and Learn more here: