Retail Technology Trends – Introduction
The Retail Landscape is in a constant state of evolution, driven by changing consumer preferences and the integration of cutting-edge technology. As we step into 2024, it's essential for retailers to stay ahead of the curve by embracing the latest Retail Technology Trends that can enhance the shopping experience, streamline operations, and drive growth. In this comprehensive guide, we will embark on a journey through the most cutting-edge retail technology trends that are set to redefine the way we shop, engage with brands, and experience the world of commerce in the coming year. From augmented reality-powered shopping experiences to sustainable supply chain innovations and AI-driven personalization, the retail industry is on the brink of a remarkable evolution. We explore the latest Retail Technology Trends and uncover how they will shape the way we purchase products, interact with stores, and make informed choices in this dynamic and rapidly changing marketplace.
58 Retail Technology Trends are explained as below
1. Artificial Intelligence (AI) and Machine Learning
Artificial intelligence and machine learning have become central to retail operations. Retailers are harnessing AI to optimize inventory management, predict consumer preferences, and improve personalized marketing. Machine learning algorithms help analyze vast amounts of data, enabling retailers to make more informed decisions about which products to stock and how to engage with customers. Moreover, AI-powered chatbots and virtual assistants enhance customer support, providing instant responses to queries and driving efficiency in handling customer interactions.
AI and machine learning are not only transforming the customer experience but also reshaping the back-end operations of retail. In addition to personalized product recommendations, these technologies are being used for dynamic pricing, demand forecasting, and supply chain optimization. Beyond enhancing customer interactions, machine learning algorithms are crucial for inventory management, helping retailers reduce waste and overstocking while ensuring products are available when customers need them.
2. Augmented Reality (AR) Shopping
AR shopping is revolutionizing the way customers engage with products. By integrating AR into their shopping experiences, retailers are allowing customers to virtually try on clothing, test out cosmetics, and visualize how furniture would look in their homes. This immersive technology not only provides customers with a sense of confidence in their purchases but also reduces the number of returns, saving time and resources for retailers. Moreover, AR creates opportunities for retailers to offer interactive in-store experiences, combining the convenience of online shopping with the sensory engagement of brick-and-mortar stores.
Augmented reality is not just about trying on clothes or visualizing furniture in your living room. It's also being used for product demonstrations, virtual tours of stores, and interactive storytelling within retail spaces. Retailers are finding creative ways to incorporate AR into their marketing strategies. For example, cosmetics brands are using AR to provide virtual makeup tutorials, and home improvement stores are using it to help customers envision DIY projects. AR shopping is an opportunity for retailers to make the shopping process more informative, interactive, and engaging, driving customer satisfaction and sales.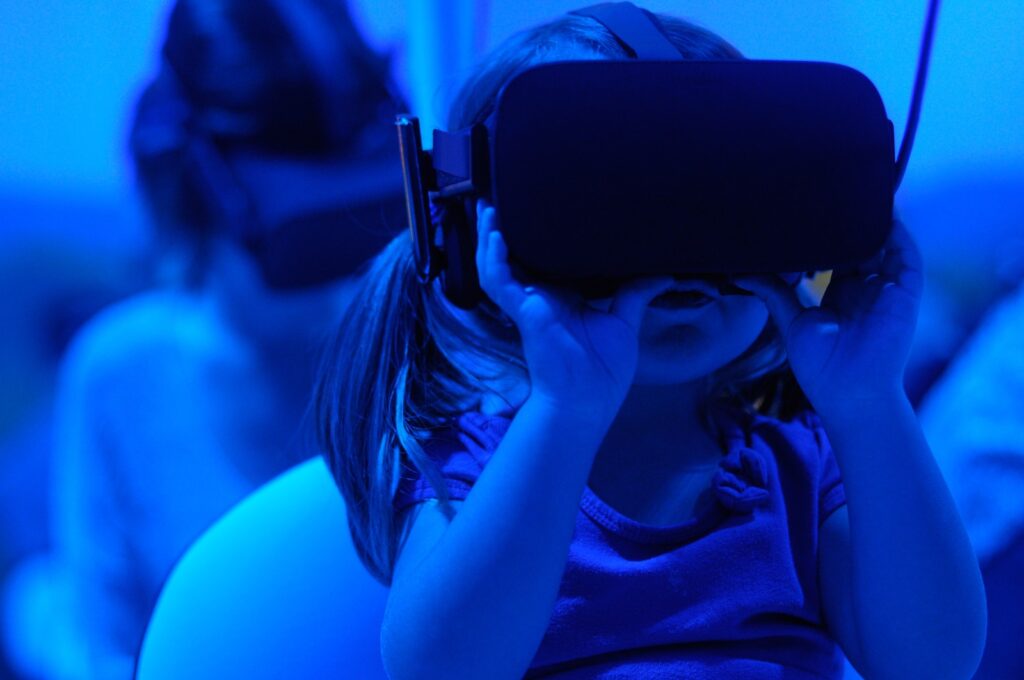 3. Virtual Reality (VR) Retail Experiences
VR retail experiences are taking online shopping to a whole new level. Retailers are increasingly using VR to create virtual stores that customers can explore from the comfort of their homes. Shoppers can navigate aisles, pick up products, and even interact with virtual sales representatives, simulating the in-store experience. VR has proven especially valuable for industries like real estate, where customers can take virtual tours of properties, saving time and resources for both buyers and sellers.
Training and onboarding in retail are also being revolutionized by VR, allowing employees to simulate real-world situations and learn through hands-on experiences. Additionally, VR retail experiences offer an innovative approach to creating virtual flagship stores that are accessible to a global audience. As the technology becomes more accessible and affordable, we can expect to see VR expanding beyond shopping, transforming multiple aspects of the retail industry.
4. Voice Commerce
Voice commerce has seen significant growth, thanks to voice-activated devices like Amazon Echo and Google Home. These smart speakers are changing the way customers shop, as they can simply issue voice commands to make purchases, check order status, and even receive product recommendations. Retailers are adapting by optimizing their product listings for voice search and integrating voice commerce into their omnichannel strategies.
Voice commerce is no longer limited to ordering products or adding items to a shopping list. Retailers are enhancing the voice commerce experience by providing customers with real-time updates on their orders and the option to receive product recommendations. Moreover, voice assistants are becoming integral to customer service, helping resolve issues and answer questions efficiently. The future of voice commerce is likely to include more advanced features, such as AI-powered voice assistants that can understand complex requests and provide recommendations based on a customer's past purchases and preferences. This trend has made shopping more convenient and hands-free, aligning with the modern consumer's preference for seamless and effortless transactions.
5. Cashierless Stores
Cashierless stores are transforming the retail landscape by providing shoppers with a frictionless and efficient experience. Retailers are deploying advanced computer vision and sensor technologies to track the items customers select, automatically charging their accounts as they exit the store. This eliminates the need for traditional checkout lines, making shopping faster and more convenient. Additionally, it reduces the risk of human error and helps retailers gather valuable data on shopping habits. Cashierless stores are likely to expand further, offering consumers a more streamlined and convenient shopping experience, while retailers benefit from reduced labor costs and increased efficiency.
Moreover, Cashierless stores are not only about streamlining the checkout process but also reducing the need for physical payment methods. Customers can walk into these stores, select items, and have their accounts charged automatically, eliminating the need for cash, cards, or mobile wallets. Retailers are experimenting with various models, from Amazon Go-style automated stores to smaller-scale cashierless kiosks. These stores are redefining convenience and saving customers valuable time by removing the need for traditional checkout lines.
6. Contactless Payment Methods
Contactless payment methods have gained immense popularity in recent years, driven by their convenience and security. Mobile wallets and QR code-based payments have become increasingly integrated into the shopping process. Customers can quickly and securely complete transactions with a tap or scan, reducing the need for physical cash and cards. Moreover, the ongoing health concerns related to the COVID-19 pandemic have accelerated the adoption of contactless payments, as customers and retailers alike prioritize safety. This trend is expected to persist, making contactless payment methods an integral part of the retail experience, both online and in physical stores.
Contactless payment methods are rapidly evolving to offer a seamless and secure shopping experience. Beyond mobile wallets and QR codes, contactless payments are increasingly incorporating biometric authentication, such as fingerprint scanning and facial recognition. As technology advances, we can expect more innovations in the realm of contactless payments, further simplifying transactions and enhancing security. The ease and convenience of these methods are not only reducing the reliance on physical cards and cash but are also speeding up the checkout process, making for a more efficient and enjoyable shopping experience.
7. Sustainable Retail
Sustainability in retail is no longer a niche trend but a core value for many businesses. Retailers are increasingly adopting eco-friendly practices, offering sustainable products, reducing waste, and implementing environmentally responsible supply chain management. This shift is driven by the growing awareness of environmental issues among consumers. Brands that prioritize sustainability are more likely to attract eco-conscious shoppers and demonstrate their commitment to a greener future.
Moreover, Sustainability in Retail is not just about the products themselves; it also extends to sustainable store design and operations. Retailers are embracing sustainable store designs, energy-efficient lighting, and waste reduction strategies. They're partnering with eco-friendly suppliers and focusing on recycling and reducing plastic packaging. Brands that emphasize sustainability aren't just winning over eco-conscious consumers; they're also demonstrating a commitment to addressing environmental concerns.
8. Blockchain for Supply Chain Transparency
Blockchain technology is being deployed to enhance transparency and traceability in supply chains. Retailers are using blockchain to verify the authenticity and origins of products, ensuring that customers receive genuine goods. Beyond anti-counterfeiting measures, blockchain can also provide valuable insights into the entire product journey, from manufacturer to store shelf. This transparency builds trust between consumers and retailers, especially when it comes to products with claims related to sustainability or fair trade.
The application of blockchain in the supply chain also goes beyond authenticity and transparency. It's also streamlining complex processes such as customs clearance, compliance checks, and reducing fraud. Beyond anti-counterfeiting measures, blockchain technology is creating a more efficient and secure supply chain ecosystem. This not only ensures that consumers receive genuine products but also helps retailers manage their inventory more effectively and track product journeys in real time, enhancing overall operational efficiency.
9. Internet of Things (IoT) in Retail
IoT devices and sensors are finding applications throughout the retail landscape. They help retailers collect real-time data on customer behavior, monitor inventory levels, optimize store layouts, and enhance security. These devices allow retailers to create seamless shopping experiences, such as smart shelves that automatically restock products or personalized in-store advertisements that adapt to customers' preferences. IoT in retail is streamlining operations and improving the overall shopping experience for customers.
IoT devices and sensors are making stores smarter and more responsive. Retailers are using IoT to optimize inventory management, reducing waste and ensuring that products are always in stock. IoT also facilitates predictive maintenance, allowing retailers to address equipment issues before they disrupt operations. These devices also offer insights into customer behavior, helping retailers create a more tailored and seamless shopping experience. The data collected by IoT devices is invaluable for making informed decisions that can enhance customer satisfaction.
10. 5G Connectivity
The rollout of 5G networks is transforming the retail industry by providing faster, more reliable internet connections. This enables richer and more immersive online experiences. Mobile shopping apps, augmented reality features, and real-time communication with customers all benefit from the improved speed and bandwidth of 5G. Retailers can provide a more seamless and engaging experience for shoppers, increasing customer satisfaction and loyalty.
The rollout of 5G networks is not only improving mobile shopping experiences but is also enabling retailers to implement augmented and virtual reality solutions with greater ease. These high-speed networks facilitate real-time video streaming, leading to richer online experiences and enhanced customer interactions. In-store communication is also benefiting from 5G technology, providing a more connected shopping experience for customers. Retailers have the opportunity to leverage the power of 5G to offer more immersive and interactive retail experiences.
11. Hyper-Personalization
Hyper-personalization is redefining how retailers engage with customers. Through AI-driven analytics, retailers can offer tailored product recommendations, marketing messages, and offers based on individual preferences and behaviors. This personalization creates a stronger emotional connection between consumers and brands, driving customer loyalty and higher conversion rates.
Hyper-personalization in retail extends to every touchpoint of the customer journey. Retailers are segmenting their audiences and creating tailored marketing campaigns for different customer segments. AI-driven analytics are helping retailers understand customer behavior and preferences, enabling highly targeted offers and personalized product recommendations. From personalized emails to dynamic content on websites, hyper-personalization is shaping the retail experience, leading to increased customer engagement and higher conversion rates. It's a trend that is gaining momentum as Retailers aim to provide increasingly relevant and customized shopping experiences.
12. Mobile Shopping Apps
Mobile shopping apps have become the cornerstone of the digital shopping experience. These apps offer customers the convenience of on-the-go shopping, personalized recommendations, and exclusive promotions. Retailers are continuously improving their apps to enhance user experiences, optimize performance, and create a more interactive and engaging platform for their customers. As mobile device usage continues to rise, retailers who invest in their apps are likely to gain a competitive edge.
Mobile shopping apps off late are evolving beyond straightforward product listings and checkout processes. Retailers are incorporating augmented reality features, creating immersive and interactive shopping experiences. These apps offer customers the convenience of on-the-go shopping, while also providing location-based deals, personalized product recommendations, and integrated loyalty programs. Mobile apps have become an integral part of the customer journey, offering not just the opportunity to shop but to engage with the brand, receive exclusive promotions, and enjoy a seamless and efficient shopping experience.
13. Robotic Process Automation (RPA)
Robotic process automation is streamlining back-end operations in retail. By automating routine and repetitive tasks such as data entry, inventory management, and order processing, retailers can reduce errors, enhance efficiency, and cut operational costs. RPA is contributing to better inventory management, faster response times, and improved customer service.
As the technology matures, RPA is expected to take on more complex tasks, allowing employees to focus on higher-value activities such as customer service, innovation, and strategy. Since it frees up employees to focus on more strategic and creative aspects of their roles, RPA ultimately helps in improving the overall Retail Experience.The combination of human creativity and the efficiency of robotic process automation is creating a retail landscape that is more Productive, Efficient and Responsive to Customer Needs,
14. Autonomous Delivery and Last-Mile Solutions
Autonomous delivery options, including delivery drones and robots, are gaining traction as solutions for the challenging last-mile delivery problem. These technologies promise faster, more efficient, and potentially cost-effective delivery services. Retailers are exploring these options to offer consumers quicker and more convenient delivery options, especially for online orders.
These innovations are making it possible for customers to receive their orders quickly and conveniently, without the need for human intervention.As the technology matures and regulations adapt, autonomous delivery solutions are poised to play a more prominent role in the retail industry. While regulatory hurdles remain, retailers are actively exploring ways to leverage these technologies to improve their delivery processes and offer more competitive delivery options.
15. Data Security and Privacy
Data security and privacy have become paramount concerns for retailers in the digital age. Retailers are adjusting their privacy policies to align with evolving regulations and consumer expectations. Maintaining customer trust is a top priority, and retailers who prioritize data security and privacy are more likely to build strong, long-lasting customer relationships.
Data Security and Privacy in Retail have gone beyond regulatory compliance to become a fundamental aspect of customer trust. Retailers are investing in advanced cybersecurity measures to protect customer data, prevent data breaches, and build trust. Customer data is often the lifeblood of retail operations, and securing this data is not just about compliance with regulations like GDPR; it's about preserving the integrity of the brand and maintaining customer trust. As cyber threats evolve, retailers are continually adapting their security measures to stay one step ahead.
16. Social Commerce
Social commerce is on the rise as consumers increasingly seek seamless shopping experiences within their favourite social media platforms. Retailers are leveraging the influence of social networks by integrating shopping features directly into social media, allowing users to discover, browse, and purchase products without leaving their preferred platform.
The integration of social commerce is not just about having a presence on social media platforms; it's about offering a seamless and integrated shopping experience. Social commerce is evolving to enable users to discover and make purchases without leaving their preferred social networks. These platforms are not just marketing channels but comprehensive shopping hubs where customers can explore products, receive recommendations, and complete transactions. This trend is creating a bridge between social interaction and shopping, offering a more interconnected and engaging retail experience.
17. Biometric Authentication
Biometric authentication methods, such as facial recognition and fingerprint scanning, are becoming common tools for secure and convenient customer identification and payment processing. Biometrics enhance security and streamline the checkout process, reducing friction for customers. Retailers can offer a more secure and convenient shopping experience, aligning with the modern consumer's desire for hassle-free transactions.
Biometric authentication in Retail is simplifying the user experience while enhancing security. Customers can complete transactions and access accounts using facial recognition, fingerprint scanning, and even voice recognition. This trend is particularly beneficial for mobile apps and online platforms, reducing the need for complex passwords and usernames. Biometric authentication methods are not just secure; they also make the shopping process more convenient and efficient. As this technology matures, we can anticipate a broader adoption in the retail sector, particularly in online and mobile shopping experiences.
18. Predictive Maintenance
Retailers are increasingly using predictive maintenance to prevent equipment failures and disruptions in stores. By analyzing data from sensors and IoT devices, retailers can anticipate when equipment such as refrigeration units, HVAC systems, and checkout registers are likely to fail. This proactive approach not only reduces maintenance costs but also ensures a seamless shopping experience for customers. Preventing equipment downtime is essential in a competitive retail landscape, and predictive maintenance is proving to be a valuable solution.
Predictive maintenance also offers retailers the opportunity to optimize energy consumption, further contributing to sustainability efforts. By detecting inefficiencies and addressing them in real-time, retailers can reduce energy waste, lower operational costs, and decrease their environmental footprint.
19. Social Commerce Marketplaces
Beyond social commerce within individual platforms, we are seeing the emergence of social commerce marketplaces. These are centralized platforms where users can discover products from various brands, connect with sellers, and make purchases, all without leaving the marketplace. Social commerce marketplaces are bringing together the best aspects of e-commerce and social media, creating a one-stop shopping destination. They offer opportunities for brands to reach a broad and engaged audience while simplifying the shopping process for consumers.
These marketplaces are also fostering a sense of community and trust, as users can see product recommendations and reviews from peers they know or follow. Furthermore, they encourage interaction between sellers and buyers, enabling real-time customer support and fostering authentic connections between brands and their customers.
20. Micro-Fulfillment Centers
Micro-fulfillment centers are compact, automated facilities that expedite order processing and last-mile delivery. Retailers are embracing this trend to optimize their supply chain operations and fulfill online orders more efficiently. These centers are strategically located close to urban areas, reducing the time and cost associated with delivering products to customers. Micro-fulfillment centers are equipped with automated robots that pick and pack items for delivery, ensuring quick and accurate order processing.
In addition to speed and efficiency, micro-fulfillment centers contribute to sustainability efforts by reducing the environmental impact of last-mile delivery. The compact nature of these centers and their proximity to customers help reduce the need for long-haul transportation and lower emissions. As e-commerce continues to grow, the adoption of micro-fulfillment centers is a practical and sustainable solution for meeting customer demand while optimizing supply chain operations.
21. Digital Twins
Digital twins are virtual replicas of physical stores, created using IoT data and other sensors. Retailers are using digital twins to gain insights into store layouts, customer flow, and product placement. These virtual representations allow retailers to experiment with store design and layout without making physical changes. Digital twins can simulate customer behavior and help retailers make data-driven decisions to enhance the in-store experience.
Digital twins also have applications in inventory management. Retailers can monitor stock levels, track products, and predict demand more accurately through these virtual models. By combining real-time data with predictive analytics, retailers can ensure that products are in stock when customers need them. Digital twins offer valuable insights that contribute to operational efficiency and a more satisfying customer experience.
22. Cognitive Search and Discovery
Cognitive search and discovery solutions are using AI and machine learning to enhance the way customers search for products online. These advanced search engines are capable of understanding natural language queries and providing highly relevant search results. Customers can describe the product they are looking for in everyday language, and the cognitive search engine will present them with the most appropriate options. This simplifies the shopping process, reduces the frustration of inaccurate search results, and drives higher conversion rates for retailers.
Cognitive search and discovery also have applications in content management. Retailers can use these solutions to tag and categorize products, making it easier for customers to navigate their online stores. By ensuring that products are well-organized and easy to find, retailers can significantly improve the customer experience and drive increased sales.
23. Immersive 3D Product Visualization
Immersive 3D product visualization technology is enabling customers to interact with products in a highly realistic and engaging manner. Retailers are implementing 3D models and augmented reality to offer customers a more comprehensive understanding of products before they make a purchase. Shoppers can rotate, zoom in, and interact with 3D representations of products, which is particularly valuable for complex items like electronics or furniture. This technology allows customers to explore products from all angles, assess their quality, and make more informed purchasing decisions.
Beyond online shopping, immersive 3D product visualization is also being used in physical retail spaces. Retailers are incorporating interactive 3D displays and kiosks, allowing customers to explore products in-store, even if the physical item is not available. This enhances the shopping experience by bridging the gap between online and offline retail and creating a more engaging environment for customers.
24. Automated Visual Search
Automated visual search technology enables customers to find products by taking pictures or screenshots. By simply uploading an image, customers can search for similar items in a retailer's inventory. This technology is particularly useful when customers have a specific product in mind but lack the words to describe it accurately. Automated visual search offers a more intuitive and user-friendly way to find products.
In addition to product discovery, automated visual search is becoming an essential tool for brands to monitor user-generated content. Retailers can track how their products are being used, shared, and reviewed by customers. This not only helps identify trends but also facilitates the enforcement of branding guidelines and ensures consistent product representation across different channels.
25. Augmented Reality (AR) for Employee Training
Augmented reality is extending to employee training programs in retail. Retailers are using AR technology to onboard new employees, train them on store procedures, and provide ongoing learning opportunities. AR applications offer interactive and hands-on training, simulating real-world scenarios and allowing employees to practice tasks in a virtual environment. This approach is more engaging and effective than traditional training methods, as it provides practical experience and immediate feedback to employees.
AR for employee training also contributes to a consistent and standardized approach across different store locations. New employees can access the same training content and receive consistent guidance, improving the quality of service and operations across the retail chain. As the retail workforce continues to evolve, AR training solutions will play a more prominent role in ensuring employee competence and customer satisfaction.
26. Digital Signage Customization
Digital signage technology is advancing to provide highly customized and context-aware content to customers in-store. Retailers are adopting digital signage solutions that adapt based on factors such as customer demographics, weather conditions, and the time of day. For example, digital displays can show different content to morning shoppers than to evening visitors. This level of customization enhances the relevance of in-store messaging, increases customer engagement, and drives sales.
Digital signage customization is also being used to create more interactive shopping experiences. Customers can interact with digital displays to access additional information about products, see related items, and receive personalized recommendations. These interactive displays foster a deeper connection between the brand and the customer, offering a shopping experience that is both informative and entertaining.
27. Self-Service Returns Kiosks
Self-service returns kiosks are providing customers with a convenient and efficient way to process returns and exchanges. Retailers are installing these kiosks in-store, allowing customers to quickly complete return transactions without the need to wait in line or interact with store personnel. Self-service returns kiosks streamline the process by automating product intake and assessment, ultimately saving customers time and reducing friction.
Beyond convenience, self-service returns kiosks can provide retailers with valuable data and insights about returned products. These kiosks can capture reasons for returns, helping retailers identify trends, detect quality issues, and improve product descriptions. This technology improves the overall return process, making it more customer-friendly while offering retailers insights for continuous improvement.
28. Smart Fitting Rooms
Smart fitting rooms are transforming the traditional fitting room experience. Equipped with IoT sensors and augmented reality mirrors, these fitting rooms enhance the try-before-you-buy process. Customers can try on clothing and use the augmented reality mirror to see how items might look in different colors or styles, all without having to change physically. Additionally, smart fitting rooms can suggest matching items or accessories, creating a more engaging and personalized shopping experience.
In addition to improving the customer experience, smart fitting rooms are valuable tools for gathering data on customer preferences. Retailers can learn more about the styles and sizes that are popular among customers, helping them optimize inventory management and design more tailored collections. These innovative fitting rooms offer retailers a competitive edge by providing a more interactive and data-driven approach to fashion retail.
29. AI-Powered Sustainability Assessment
AI is being used to assess the sustainability of products and help customers make more eco-conscious choices. Retailers are integrating AI systems that provide sustainability scores and recommendations based on the environmental impact of products. Customers can easily access this information while shopping and make decisions that align with their sustainability values. This technology not only raises awareness about environmental concerns but also helps customers support brands that prioritize sustainability.
AI-powered sustainability assessment is also assisting retailers in making more sustainable choices in their operations. By evaluating the environmental impact of various suppliers and products, retailers can select partners and inventory that align with their sustainability goals. This technology helps retailers take a proactive approach to sustainability and meet the growing demand for eco-friendly products.
30. Digital Price Tags
Digital price tags are replacing traditional paper tags in physical stores. These e-ink or e-paper displays can be updated in real time, allowing retailers to change prices and product information instantly. This technology ensures that customers always see accurate prices and product details, reducing confusion and improving the overall shopping experience. Digital price tags also offer a sustainable alternative to paper tags, as they reduce paper waste and are more eco-friendly.
Digital price tags can serve multiple purposes beyond displaying prices. Retailers can use them to show customer reviews, product ratings, and special promotions. By adding this dynamic content to the price tags, retailers can enhance product visibility and influence customer purchasing decisions. The use of digital price tags is an example of how technology can improve the operational efficiency of physical stores while enhancing the customer experience.
31. Holographic Shopping Assistants
Holographic shopping assistants are becoming a reality in retail. These interactive holograms guide customers through the shopping experience, providing information about products, answering questions, and offering recommendations. Customers can interact with the holographic assistant by using gestures or voice commands, creating an engaging and futuristic shopping experience. Retailers are exploring the use of holographic shopping assistants to add a touch of innovation to their brick-and-mortar stores and engage customers in a unique way.
In addition to assisting customers, holographic shopping assistants can also collect data on customer interactions. Retailers can analyze this data to gain insights into customer behavior and preferences, allowing for more personalized product recommendations and marketing strategies. As the technology matures and becomes more accessible, holographic shopping assistants have the potential to redefine the in-store shopping experience.
32. AR-Powered Navigation
Augmented reality navigation is making it easier for customers to find their way in large retail spaces. Retailers are using AR-powered apps that provide indoor navigation using a smartphone or wearable device. These apps create visual overlays on the user's screen, guiding them to specific products, departments, or services within the store. This technology reduces the frustration of getting lost in a large store, enhancing the overall shopping experience and improving customer satisfaction.
AR-powered navigation can also offer customers additional information about products while they navigate the store. For example, customers can point their device at a product, and the app will display detailed information, reviews, and related items. Retailers are finding that this technology not only makes shopping more convenient but also leads to increased engagement and sales.
Augmented reality-powered navigation applications are enhancing the in-store shopping experience. Customers can use their smartphones to scan store aisles, receive directions to specific products, and access real-time information about prices, reviews, and promotions. This technology streamlines the shopping process, reducing the time customers spend searching for items, and providing additional information to help them make informed choices. Augmented reality-powered navigation adds a layer of convenience and interactivity to the in-store journey, ultimately improving customer satisfaction and making the shopping experience more efficient.
33. Instant Product Customization
Retailers are offering instant product customization options, allowing customers to personalize products while shopping. For example, customers can customize clothing items by choosing the fabric, color, and design, all within the store. Retailers have integrated advanced machinery that can quickly create personalized products in real time, reducing the lead time for customization and enhancing the customer experience. This trend is particularly prevalent in the fashion and footwear sectors, where personalization is highly valued by customers.
Instant product customization is not only about aesthetics but also functionality. Customers can customize electronic devices, home appliances, and even furniture to suit their specific needs. This approach not only leads to highly satisfied customers but also streamlines the supply chain, as retailers can create products on-demand, reducing excess inventory and waste.
34. Product Lifecycle Transparency
Retailers are providing more information about the entire lifecycle of products to help customers make informed choices. This includes information about the sourcing of materials, manufacturing processes, and the impact on the environment. By providing transparency about a product's journey from production to disposal, retailers are empowering customers to support brands that prioritize ethical and sustainable practices.
This transparency also holds retailers accountable for their products and supply chain practices. By being open about the product lifecycle, retailers are driven to make more responsible decisions and adopt sustainable practices. Customers can feel confident that they are supporting brands that align with their values, fostering a stronger sense of trust and loyalty.
35. In-Store AR Social Experiences
Retailers are leveraging augmented reality to create social experiences in physical stores. By using AR apps, customers can participate in interactive games, scavenger hunts, or other shared experiences while shopping. These activities enhance customer engagement and offer a unique and enjoyable shopping experience. In-store AR social experiences are particularly popular with younger demographics who seek more than just transactions when they visit a store
These AR experiences also encourage social sharing and word-of-mouth marketing. Customers are likely to share their fun and unique shopping experiences with friends and followers on social media, providing retailers with free publicity and increasing brand awareness. By combining shopping with entertainment and social interaction, retailers are creating memorable and shareable experiences that drive foot traffic and sales.
36. Autonomous In-Store Delivery Robots
Retailers are testing autonomous delivery robots within their stores to improve operational efficiency. These robots are used to transport products from the stockroom to the sales floor, ensuring that products are restocked in a timely and accurate manner. By reducing the need for human employees to perform these routine tasks, retailers can allocate their workforce to more customer-facing roles, such as providing assistance and enhancing the shopping experience.
Autonomous in-store delivery robots are also gaining traction for their ability to offer curbside delivery services to customers. Customers can place an order online, and the robot will deliver it to their vehicle parked outside the store. This technology combines the convenience of online shopping with the immediacy of in-store pickup, meeting the evolving demands of modern shoppers.
37. Personalized In-Store Discounts
Personalized In-Store Discounts represent a significant shift in how retailers engage with their customers within physical brick-and-mortar locations. This trend leverages data analytics and customer insights to tailor discounts and promotions based on an individual shopper's preferences and purchase history. Retailers can use various technologies, such as mobile apps or beacons, to track a customer's in-store movements and interactions. By analyzing this data, they can offer discounts in real-time on products that align with the shopper's interests, ultimately enhancing the overall shopping experience.
Customers benefit from personalized in-store discounts by receiving offers that are not only relevant to their needs but also timely. This approach fosters a sense of appreciation, as shoppers feel that the retailer understands and values their preferences. Moreover, it can encourage impulse purchases and brand loyalty, as customers are more likely to return to stores that consistently provide tailored discounts. For retailers, personalized in-store discounts offer the opportunity to maximize sales, reduce excess inventory, and minimize the chances of abandoned shopping carts. As technology and data analytics continue to advance, this trend is set to become an integral part of the in-store shopping experience, driving both customer satisfaction and revenue for retailers.
38. Socially Conscious Shopping
Socially conscious shopping reflects the growing awareness among consumers regarding ethical and environmental issues. It involves making purchasing decisions based on a product's sustainability, its impact on the environment, and the ethical practices of the brand. Shoppers seek products that align with their values, such as those produced with fair labor practices, eco-friendly materials, or charitable components.
Retailers are responding to this trend by offering products with transparent sourcing information and by highlighting their commitment to social and environmental responsibility. This approach not only meets the ethical expectations of modern consumers but also aligns with their desire to make a positive impact on the world through their purchases.
39. Extended Reality Shopping (XR)
Extended Reality (XR) shopping blends the virtual and physical worlds, encompassing Virtual Reality (VR), Augmented Reality (AR), and Mixed Reality (MR). This technology creates immersive shopping experiences where customers can explore virtual stores, interact with products, and make informed decisions. VR allows customers to step into a completely virtual environment, while AR enhances the real world with digital elements, and MR combines both aspects.
XR shopping not only brings convenience and fun to the customer experience but also provides retailers with a unique platform to showcase their products and services. Retailers can use XR to create virtual showrooms, enable customers to visualize products in their own spaces, and even offer interactive shopping experiences. As technology continues to advance, XR shopping is likely to become an essential tool for engaging customers and providing a highly personalized and memorable shopping journey.
40. Gamified Shopping
Gamified shopping transforms the retail experience by incorporating elements of gaming into the purchasing process. Retailers are increasingly implementing gamification strategies to engage customers and make shopping more entertaining. These strategies include point-based reward systems, interactive challenges, and virtual competitions.
Gamification not only adds a layer of fun to shopping but also fosters customer loyalty by offering incentives, such as discounts, exclusive items, or virtual badges, to encourage repeat business. Retailers can create a competitive and enjoyable shopping experience, ultimately leading to increased customer engagement and brand loyalty.
41. Smart Mirror
Smart mirrors are revolutionizing the traditional fitting room experience. Equipped with augmented reality and RFID technology, these mirrors allow customers to virtually try on clothing and accessories without physically changing garments. Shoppers can easily switch colors, styles, and sizes, enhancing convenience and reducing the need for multiple trips to the fitting room.
Additionally, smart mirrors provide valuable information about product availability, sizes, and even suggest complementary items based on the clothing being tried on. These mirrors make the shopping process more interactive and informative, resulting in improved customer satisfaction and higher sales conversion rates.
42. Responsive and Sustainable Supply Chains:
Responsive and sustainable supply chains are becoming central to modern retail operations. Retailers are integrating advanced technology to ensure that products are delivered quickly and efficiently while reducing waste and environmental impact. Responsive supply chains adapt to changing customer demands, optimizing inventory management and streamlining the flow of products from manufacturers to customers. This not only enhances operational efficiency but also aligns with the growing importance of sustainability. Retailers are increasingly focusing on eco-friendly and sustainable supply chain practices, ensuring that products are sourced responsibly and distributed with minimal environmental impact.
43. Personalized Subscription Services
Personalized subscription services are revolutionizing how consumers access products and services. These services use AI and data analytics to create customized subscription boxes filled with products tailored to individual preferences and needs. Retailers are leveraging customer data to understand their tastes and deliver a curated experience right to their doorstep regularly.
Subscribers enjoy the convenience of receiving items that align with their interests, which can range from beauty products to books and clothing. This trend enhances customer loyalty and creates a reliable source of recurring revenue for retailers while providing customers with a continuous stream of personalized products.
44. Augmented Reality for Product Customization
Augmented reality (AR) is increasingly being used to allow customers to customize and personalize products, such as clothing, shoes, and accessories. Customers can use AR tools to visualize their unique designs and make alterations before placing an order. This level of customization enhances customer satisfaction by providing a sense of ownership and self-expression in the products they purchase. Retailers that embrace AR for product customization are offering shoppers an interactive and engaging shopping experience, allowing them to create one-of-a-kind items that resonate with their individual style and preferences. As technology continues to advance, this trend is likely to grow and play a crucial role in the fashion and customization industry.
45. Robots for Shelf Restocking
Robots equipped with computer vision and AI technology are being employed to assist with shelf restocking in retail stores. These robots can identify low-stock items, monitor product levels, and autonomously navigate store aisles to restock shelves efficiently. By automating this process, retailers can reduce human error, optimize inventory management, and ensure that products are consistently available for customers.
This technology not only enhances operational efficiency but also reduces the need for manual labor in the restocking process. As these robots continue to evolve and become more prevalent, they have the potential to reshape inventory management in the retail industry, making it more accurate and cost-effective.
46. Pop-Up Virtual Stores
Pop-up virtual stores represent a dynamic approach to engaging customers in the digital realm. These stores appear in unexpected places, such as within popular social media platforms or temporary online marketplaces, creating a sense of exclusivity and urgency around featured products and promotions. Pop-up virtual stores offer unique shopping experiences by allowing customers to explore limited-time collections, make purchases, and engage with brand content. Retailers can use this trend to reach customers where they already spend their time online, creating new opportunities for product discovery and customer engagement.
47. Sustainable Fashion Rental Services
Sustainable fashion rental services are transforming the way consumers access high-quality clothing and accessories. These services enable customers to rent stylish and eco-friendly items for a specific period, reducing the environmental impact of fast fashion and encouraging the reuse of garments. By renting clothing, consumers can enjoy trendy and luxurious pieces without the long-term commitment of ownership, thus promoting sustainability and reducing waste. Retailers offering sustainable fashion rental services not only cater to eco-conscious consumers but also contribute to reducing the fashion industry's environmental footprint. This trend aligns with the growing awareness of sustainable practices and the desire to make more responsible fashion choices.
48.Holographic Product Displays
Holographic product displays are Revolutionising how retailers showcase their products. These 3D holograms create stunning, immersive representations of products, allowing customers to view items from all angles, even if they're not physically present in the store. Holographic displays offer an engaging and attention-grabbing way to present products, making them particularly effective in attracting and retaining customers' interest. In 2024, retailers are incorporating holographic displays into their store designs and online shopping experiences, creating a visual and interactive shopping journey that sets them apart from competitors.
These holographic displays are not only eye-catching but also informative. Customers can access product details, specifications, and reviews by interacting with the holograms. The ability to see products in a more realistic and dynamic way enhances the overall shopping experience, making it more engaging and educational. Moreover, as technology advances, we can expect to see increasingly sophisticated holographic displays that can virtually transport customers into digital showrooms, further blurring the lines between online and in-store shopping.
49. Autonomous Shopping Carts
Autonomous shopping carts are another innovative trend that's set to enhance the shopping experience in 2024. These smart carts are equipped with sensors, cameras, and AI technology, enabling them to follow customers as they move through the store, carry selected items, and keep track of purchases. Shoppers can simply add products to their cart, and the autonomous cart will autonomously adjust its position. It simplifies the shopping process by eliminating the need to push a traditional cart and search for items on the shelves.
These autonomous shopping carts have the potential to reduce the friction in the shopping process significantly. They not only save customers time and effort but also create a seamless and stress-free experience. Furthermore, retailers can use these smart carts to provide real-time product recommendations, personalized offers, and an optimized shopping route within the store. Autonomous shopping carts offer a glimpse into the future of shopping, where technology takes on a more active role in assisting and enhancing the customer journey.
50. In-Store Drone Delivery
In-store drone delivery represents an exciting trend that's reshaping the way products are retrieved and delivered to customers within retail locations. Drones are increasingly being used to access items located on high shelves, reducing the need for employees to use ladders or lifts. In addition, retailers are experimenting with using drones to provide customers with small, lightweight items directly at the point of sale or even during the shopping process. These in-store drones offer a faster and more convenient way for customers to access products, making the shopping experience more efficient and engaging.
In-store drone delivery also offers retailers the opportunity to provide a unique and memorable shopping experience. For example, retailers can use drones to deliver samples, promotional items, or even receipts directly to customers within the store. This creates a sense of novelty and adds a layer of entertainment to the shopping journey, especially for tech-savvy consumers. As drone technology advances and regulations evolve, we can expect to see even more creative uses for in-store drones, enhancing the efficiency and entertainment value of retail spaces.
51.Contactless Returns
Contactless returns are becoming increasingly important in the retail industry, offering customers a seamless way to return products without the need for physical contact. In 2024, retailers are implementing contactless return options, allowing customers to initiate returns through their mobile apps or websites. These returns can be completed without entering the store, shipping the item back, or interacting with employees. Customers can use QR codes or digital receipts to process their returns, making the process efficient and reducing the risk of contact with others, especially in a post-pandemic world.
Contactless returns not only enhance safety but also improve the overall return experience for customers. It reduces the hassle and time involved in returning items, increasing customer satisfaction and loyalty. Moreover, retailers are incorporating automation into the return process, using robotics and AI to inspect returned items, determine their condition, and process refunds or exchanges. This trend streamlines the entire return journey and sets the stage for a more convenient and efficient retail experience.
52.Self-Checkout Kiosks with Facial Recognition
Self-checkout kiosks with facial recognition are reshaping the way customers complete their purchases. These kiosks offer an alternative to traditional manned checkout counters, allowing customers to scan and pay for products independently. Facial recognition technology streamlines the process even further by enabling customers to complete transactions simply by looking into a camera. This trend reduces the need for physical interaction and eliminates the use of touchscreens or other shared surfaces. It offers a secure and convenient way for customers to check out, particularly in a time when contactless options are highly valued.
Self-checkout kiosks with facial recognition not only enhance safety but also provide a quicker and more efficient checkout process. These kiosks can be found in grocery stores, retail outlets, and even fast-food restaurants. Customers appreciate the speed and convenience, while retailers benefit from reduced labor costs and faster turnover at checkout. As technology advances and facial recognition algorithms become more accurate and secure, this trend is set to become a staple in the retail industry, providing a contactless, streamlined, and efficient shopping experience.
53. Virtual Reality Fashion Shows
Virtual Reality (VR) fashion shows are changing the way consumers engage with fashion and clothing. Retailers are hosting virtual fashion events where customers can attend from the comfort of their homes, using VR headsets or even mobile devices. These events provide a 360-degree view of the latest fashion collections, allowing customers to explore clothing, accessories, and even models in a virtual environment. They can interact with products, view outfits from different angles, and experience a more immersive and informative fashion presentation.
VR fashion shows offer an innovative way for retailers to present their products and create memorable experiences for customers. This trend allows consumers to virtually attend fashion shows and explore the latest trends without needing to travel to physical events. Retailers can provide direct links to their online stores, enabling customers to purchase showcased items with ease. As VR technology becomes more accessible and user-friendly, it is likely to redefine how retailers showcase their products, enhancing the reach and engagement of fashion enthusiasts.
55. Sustainable Payment Options
Sustainable payment options are emerging as a unique trend in the retail industry. These options give consumers the choice to make payments in ways that align with their environmental values. For instance, customers can opt for "carbon-neutral" transactions, where a portion of the payment goes towards carbon offset projects. Alternatively, they can choose payment methods that support sustainability initiatives, such as renewable energy or reforestation efforts. Retailers are partnering with eco-friendly payment providers to offer these choices to customers, allowing them to contribute to environmental causes with every purchase.
Sustainable payment options go beyond traditional payment methods by incorporating sustainability into the transaction process. This trend appeals to eco-conscious consumers who want to make a positive impact with their purchases. It not only aligns with the broader sustainability movement but also positions retailers as environmentally responsible brands. By offering these payment choices, retailers demonstrate their commitment to addressing climate change and encourage customers to be part of the solution, all while creating a unique selling point that sets them apart from competitors.
56. Augmented Reality Pricing Labels
Augmented Reality (AR) pricing labels are transforming how customers access pricing and product information in physical stores. These labels are displayed next to products and can be scanned with a smartphone app to reveal real-time pricing, promotions, and additional product details. By simply pointing their phones at the AR label, customers can instantly access comprehensive information about the item, such as reviews, availability, and comparable products. This technology simplifies the shopping process, making it more informative and engaging for in-store shoppers.
AR pricing labels enhance the customer experience by providing an interactive and convenient way to access information about products. Customers can quickly compare prices, read reviews, and discover related items, all by scanning the labels with their smartphones. Retailers can update these labels in real-time to reflect changes in pricing or promotions, creating a dynamic and responsive shopping environment. Augmented reality pricing labels represent a valuable tool for retailers looking to offer a more enjoyable, informative, and efficient in-store experience.
57. Robotic Greeters and Customer Service Agents
Robotic greeters and customer service agents are becoming a common sight in retail locations, offering customers a futuristic and efficient way to interact with brands. These humanoid or AI-driven robots are positioned at store entrances to welcome customers, provide directions, and offer basic assistance. Additionally, they can assist with tasks such as locating products, answering frequently asked questions, and even processing returns. These robots enhance customer service by offering immediate and consistent assistance while reducing the workload of human staff.
Robotic greeters and customer service agents streamline the in-store experience by providing efficient and reliable support to customers. They can also interact in multiple languages, making them particularly useful in diverse or tourist-heavy locations. Retailers can customize the robots' appearances and functions to align with their brand identity and specific customer needs. As technology continues to improve, these robots have the potential to play an even more significant role in the retail environment, enhancing customer engagement, reducing wait times, and creating a memorable shopping experience.
58. Interactive Window Shopping
Interactive window shopping takes the traditional practice of window displays to a whole new level. These interactive displays incorporate touchscreens, augmented reality, or QR codes that allow passersby to interact with the display and learn more about the products showcased. Customers can virtually try on clothing, view 360-degree images, or access additional information about the items. Interactive window shopping creates an engaging and informative experience for customers, drawing them into the store even before they step inside.
These interactive displays transform the exterior of retail locations into dynamic and engaging shopping experiences. They capture the attention of pedestrians and encourage them to explore the products on display. Retailers can use this technology to showcase new arrivals, special promotions, and exclusive items, effectively using the store's exterior as an additional marketing tool. As technology and creativity merge, interactive window shopping promises to redefine how retailers captivate the interest of potential customers and drive foot traffic into their stores.
Conclusion
In conclusion, the retail industry is on the cusp of a technological transformation that promises to reshape the way we shop, interact with brands, and engage with products. The ultimate retail technology trends in 2024 are set to revolutionize the shopping experience, creating a more personalized, efficient, and sustainable retail landscape. These trends reflect the changing expectations of today's consumers and the evolving demands of the modern market.
From socially conscious shopping and extended reality experiences to AI-powered visual search and autonomous retail stores, retailers are embracing innovation to meet the needs of their tech-savvy customers. Personal shopping chatbots, gamified shopping, and smart mirrors are elevating the level of service and engagement in physical and digital retail spaces. Moreover, the industry is moving toward more sustainable and responsible practices through responsive supply chains, personalized subscription services, and augmented reality customization.
As robots take on more responsibilities, pop-up virtual stores redefine online shopping, and augmented reality-powered navigation simplifies the in-store experience, the retail industry is evolving to provide a seamless and enjoyable journey for consumers. Sustainable fashion rental services promote ethical and eco-friendly practices, offering an alternative to fast fashion.
By embracing these trends, retailers can create a retail landscape that aligns with the dynamic preferences and values of their customers, enhancing customer satisfaction, loyalty, and revenue. The retail industry is poised for a future where technology bridges the gap between online and in-store shopping, offering consumers a holistic, engaging, and convenient retail experience. These Retail technology trends for 2024 introduce exciting and innovative ways for retailers to engage customers, streamline operations, and enhance the overall shopping experience. As technology continues to advance, the retail industry will continue to evolve, offering consumers more personalized, convenient, and immersive ways to explore and interact with products. As we look forward to 2024 and beyond, these technology trends are set to define the new era of retail, showcasing the endless possibilities for innovation and growth.
You May Also Like :